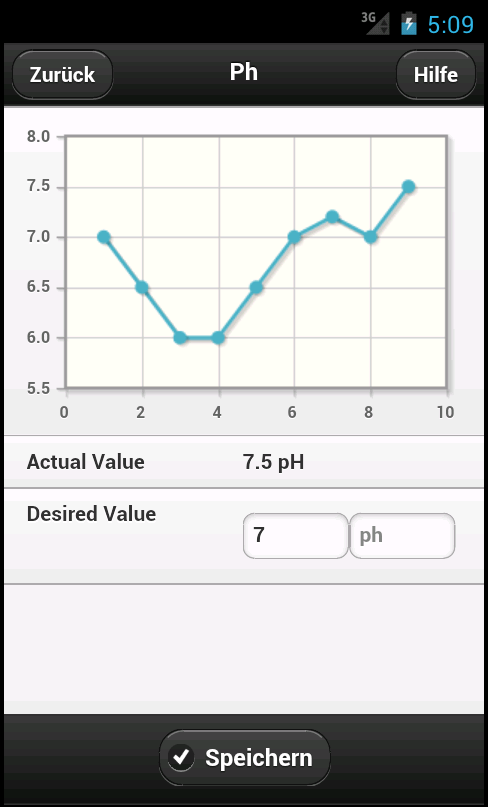 The ProfiLux aquarium controller from GHL is about to get a whole lot more friendly for the mobile aquarist. While not quite available to the public, GHL made the announcement a few days ago that they will be releasing a brand new ProfiLux App, which will be available for iOS and Android users alike. The app will allow aquarium keepers to view all of the data points that the controller collects (e.g. information on temperature, pH, etc.) and chart them on graphs, view alarms/notifications based on timed events or measured data points, program customizable light schedules and effects that include thunderstorms, start and stop equipment before and after feeding, and receive reminders for various tasks like water changes, light bulb changes, etc. The menus on the ProfiLux App are customizable so that aquarium keepers can moving things around to best suit their needs. The app will be available in two languages, English and German, though all of the images in this article are shown in German.
There's no word on when exactly the app will be released, but from the looks of it, that date probably isn't too far off. The app should work fine on the Apple iPad and iPod devices, though GHL only specifies that it will work on the iPhone. Since they all run the same software, we don't anticipate any issues with using it across all iOS devices. There was no mention of the mobil platform from Microsoft, so we anticipate that it is not supported at this point. However, if there were enough users asking for the app, we're sure GHL would accommodate.
As you can probably tell, information is a bit scarce at the moment and GHL has only teased us with a few screen shots of the app…and they're all in German! We don't even know what all controllers the app will be compatible with yet. But, it's still somewhat obvious what all this app will be capable of. And given the fact that it's GHL, we know it will be full of features.
For more screenshots, check out the gallery below.