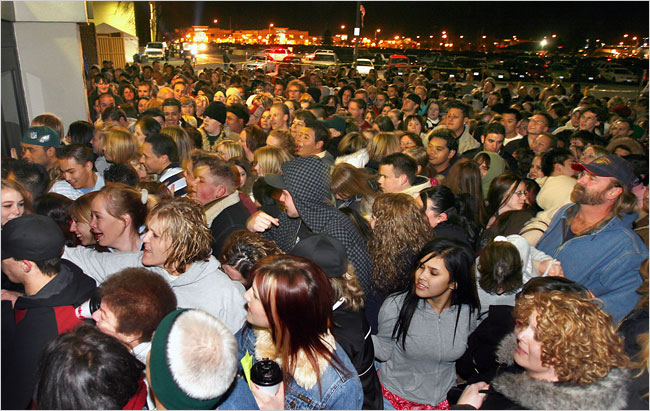 Today is turkey day, one of the busiest food days of the year, and tomorrow starts the holiday shopping with the always busy Black Friday. Many brick-and-mortar stores and online retailers will be having some very generous sales, and we've rounded up some of the best deals we could find and compiled them into a list so you don't have to go traipsing all over the net looking for them.
Keep reading below for the sweet deals.
List of retailer specials, in alphabetical order.
Like many equipment retailers, AquaCave is getting in on the Black Friday action with a nice discount. Their offering is 10% off everythin on the website, though it excludes products from EcoTech Marine, AquaIllumination, Neptune Systems, CoralVue, Reef Octopus, Maxspect, items already on sale, previous orders, and AquaCave gift certificates. This sale ends November, 26th, 2012 at 11:59 PM EST.
Aquarium Specialty is giving a very generous 14% off virtually everything on their website. With the coupon code "Gobble14", aquarium hobbyists get the discount taken off their entire order at checkout. There are some exclusions, however, which include products from AquaIllumination, Ecotech Marine, Neptune Systems, Maxspect, Coral Vue/Octopus/Super Reef Octopus, as well as previous orders, gift certificates, Vertex Omega Pre-orders, and sale items. This sale ends on 11/25/2012.
Aquascapers, an online retail store for aquarium livestock and a subsidiary of Coral Morphologic (also known as Morphologic Studios), is celebrating their first Black Friday with a 20% discount on all corals until Sunday, November 25th. Enter the code "THANKS" at checkout to receive the discount. A $50 minimum order is required to receive the discount.
The gang at Blue Zoo are getting into the shopping spirit by offering up to 30% discounts on all fish, corals, and invertebrates in stock. There doesn't appear to be many restrictions, if any, so if you're shopping for a new tankmate, hit up BZA as they've got a lot of stuff in stock at the moment.
Bulk Reef Supply always seems to have some good deals, and those are only getting sweeter with Black Friday. For the busy shopping weekend, they are offering up 12% off sitewide. On top of that, they are offering up mutliple "Deal of the Day" promotions, so be sure to check back daily for new deals on aquarium gear. The sale ends November 25th and excludes AquaIllumination, Ecotech Marine, and "others".
Doctors Foster and Smith/LiveAquaria:
Just like last year, the crew at Drs. Foster and Smith is doing a big sale for the holidays. And like last year, they aren't just offering discounts. Instead, they are doing a contest style drawing giving away various products in addition to big discounts. The 4-hour giveaway will take place on 11/25 and 11/28, starting at 10 am CST each of the two days. The specific details haven't been made available yet, but tomorrow we'll know more after the sale goes live.
Marine Depot always does it big for Black Friday, and this year is no different. They are running the longest sale we've found so far, with discounts on tons of stuff all the way through December 4th. The discounts vary greatly from product to product, with prices dropping as much as 20% on some stuff. On top of that, Marine Depot is having some ridiculous deals on some JBJ USA products. For example, they're selling a 28-gallon Nano Cube (tank only) for just $99. Of course, there is a very limited supply and a limit of one per customer. Those deeply discunted deals must be purchased over the phone on November 23rd, and the deals unlock at different times of the day to keep you on your toes. Be sure to check their website for the rest of the deals, as there are too many to list, and make sure to take note of any restricted items.
Reefs2go is having a very generous Black Friday sale. Besides special pricing on multiple items, they are offing 50% off on all macroalgae and 10% off on all corals, fish, and invertebrates. The sale is based on an "as supplies last" basis, so when items start selling out the sales start ending.
Salty Critter is offering a nice discount on drygoods and livestock this year, with online and walk-in customers seeing 10% off gear prices and 20% fish, corals, and invertebrates. The online sale runs from 11/20 through 11/25, with the walk-in sale starting tomorrow and ending on the 25th. The sale excludes products from AquaIllumination, Ecotech Marine, and Neptune Systems, as well as items already on sale.
That Pet Place/That Fish Place:
That Pet Place is offering up to 65% off their inventory, which includes both aquatic and non-aquatic equipment. So, if you've got multiple pets to shop for, see if you can grab up some sweet deals for the cat or dog while shopping for your fish. According to the fine print, the prices are subject to change, the sale is not valid on prior orders, and there's no promotion code required for items already on sale.
Unique Corals is kicking off their inaugural Black Friday and Cyber Monday in style. Starting on Friday, November 23, everything listed on their website will be 20% off. Simply use the coupon code "THANKS20" and the discount will be taken off at checkout. This sale ends Monday, November 26th.