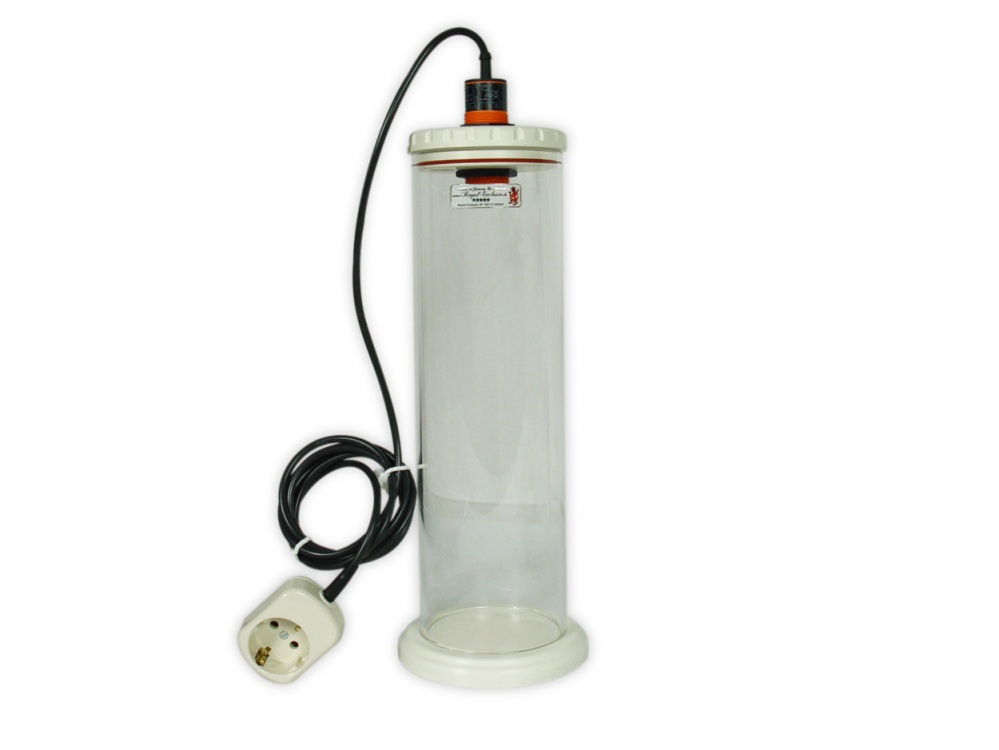 Royal Exclusiv, the company behind the world famous Bubble King protein skimmers, is adding a little more firepower to their lineup in the form of a skimmate collector that automatically shuts down the skimmer when full. Aptly named the Over-Flow-Stopper, this acrylic chamber operates similarly to other skimmate collectors, but instead of using air pressure to push up a ping pong ball, it uses an integrated capacitive non-contact level sensor. Once triggered, the switch kills power to the protein skimmer, preventing an overflow of the skimmate.
For the moment, Royal Exclusiv has two models available, but they do not differ in their dimensions or capacity. Instead, what's different are the lids. Both models measure 110mm wide x 430mm tall, holding around 2.3 liters of skimmate. The diameter of the actual cylinder is 1oomm, or just under 4 inches. Getting back to those differences in the lids, one model has a 15mm bore hole that accepts the tubing from Royal Exclusiv Bubble King protein skimmers. The other lid has a 1omm bore hole for non Royal Exclusiv skimmers. While we don't get offering two models with their only difference being the size of the holes in the lids, we are excited by the fact that Royal Exclusiv is designing with other brands in mind, at least to some extent. Perhaps they were thinking primarily about Vertex skimmers, which have close ties to Royal Exclusiv, but we're sure other brands will be able to accept this skimmer overflow container as well.
Prices for the Royal Exlusiv Over-Flow-Stopper are set at 285 euros, with an additional 6 euros being tacked on for the non-Royal Exclusiv version.
Continue below for a bunch of pictures of the Over-Flow-Stopper.