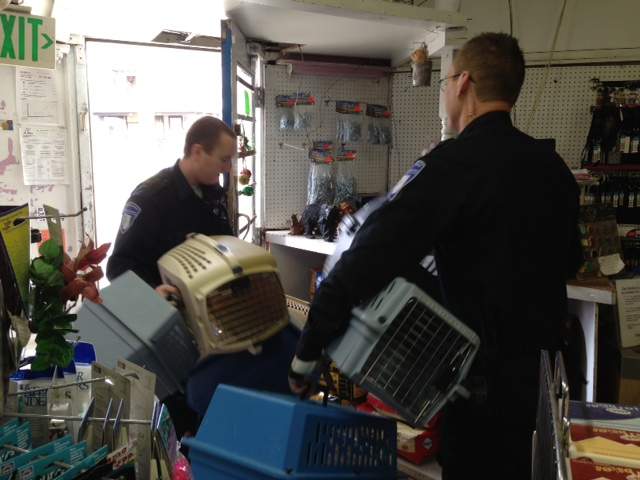 According to a very recent story posted on the WishTV news website, Indianapolis Animal Care and Control issued 581 citations to the Fish Bowl Pet Shop on Thursday afternoon because hundreds of fish and lizards were found dead at the store, and the living conditions for those pets still alive were horrendous. The fish tanks were murky, animals were living in their own feces, and some of the birds were eating dead fish. Overall, more than 200 fish were found dead and an estimated 385 animals that were still alive were removed from the premises. A judge issued an emergency suspension of the fish store's operating license, banning the store from selling live animals but still allowing it to sell dry goods.
Authorities first showed up at the Fish Bowl Pet Shop last Wednesday for an inspection. They found numerous violations and told the store owner he had two days to take care of them. The store owner told the local news that he did the best he could to fix the situation, but obviously he didn't even come close to satisfying the authorities. So, birds, puppies, lizards, and various other critters were hauled away. The fish, on the other hand, were left at the store, which we presume only happened because it's a lot more difficult to find a temporary home for hundreds of fish than it is for birds, dogs, cats, etc. Fortunately, the animal control organization overseeing the case is going to be coming back to the store daily to check on the fish. As far as the confiscated animals go, they will be placed in foster homes and rescue centers until a judge decides whether or not the store can stay in business. That hearing is set for March 20th.
The store, which has been in business for 45 years, clearly looks like a mess in the videos posted below. The store owner appears distraught, even breaking down into tears at one point in the clip. Even though the owner had an obvious emotional connection, he clearly didn't know how to take care of the animals in his possession and we're happy to hear that the authorities are taking care of the matter.