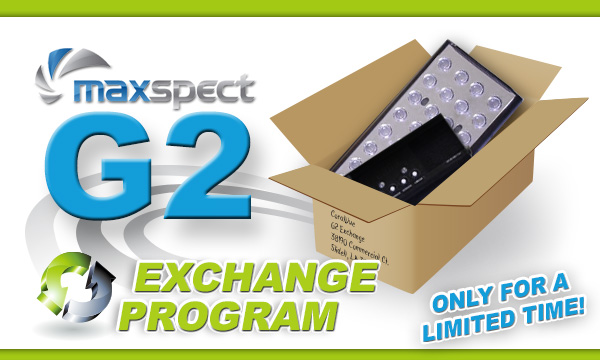 We always love it when a company provides an avenue for customers to stay up to date with new products, and such is the case for the Maxspect G2 Exchange program. Starting on March 26th, CoralVue (the North American distributor for Maxspect products) will be offering existing Maxspect G2 owners the opportunity to exchange their old fixture for a shiny new 120w 16k R420R "Razor" LED fixture. The Razor fixture will come brand new, not a factory refurbished item, and it will also have a standard 1 year warranty. The cost to the customer, only $294.99 plus shipping.
So why make the change? For one, at the end of this exchange program, which is expected to last for the next 3-6 months, support for the Maxspect G2 units will cease to exist. Some of the replacement components will still be available for the G2, but all of the replacement work will have to be performed by the customer. For many DIY'ers, that shouldn't be an issue, but not all of us are talented in that manner. Anothe reason to make the switch is performance. The 120w R420R outperforms the 160watt version of the Maxspect G2 thanks to more advanced Cree LEDs and the fact that it has a wider coverage.
With this program, each Maxspect G2-110w or G2-160w can be exchanged for one Razor LED fixture. Each G2-170w or G2-230w fixture nets you two Razor fixtures in the exchange. Customers have to live within the United States and they have to send in each fixture complete with power supplies and accessories.
For more information about how to take advantage of this exchange opportunity, be sure to visit CoralVue's website.