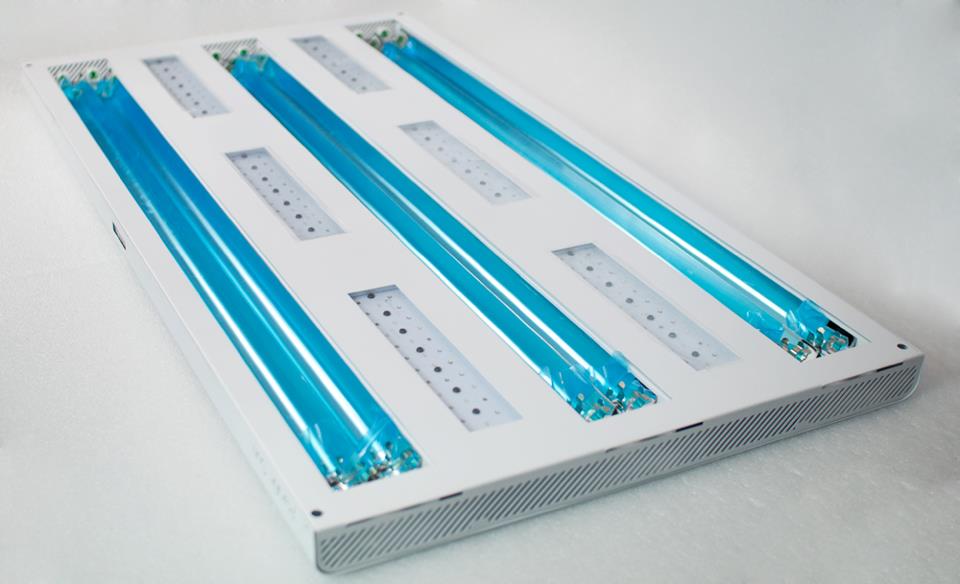 Pacific Sun has released several new LED-only fixtures over the last couple of years, but it seems that they've recently started to show a little more love toward T5HO lighting. Besides their new Pandora Hyperion S, which we'll introduce in a day or two, they've also got a really beefy new fixture called Ariel, both of which feature supplemental T5 lighting. The Ariel fixture is offered in a few different configurations, with the 1200w model being the most powerful. It sports a total of six LED panels at 15o watts each with an additional six slots for 54watt T5 bulbs. The other shallow water models dial down the LED juice, with the mid-level Ariel having 145w LED panels and the lower end model using a 75w cluster.
The Arial T5/LED hybrid fixture measures 1250mm L x 650mm W x 50mm T (or roughly 49.2″ x 25.6″ x 2″) and comes with electronic ballasts and dedicated cooling fans. According to Pacific Sun, the fixture can fully illuminate aquariums up to 2 meters long and 140cm wide (or roughly 78″ by 55″). In terms of water depth, the 1200w model can light up tanks up to 150cm deep (almost 60″). These are all huge numbers from a four foot long fixture, so you know the light output has to be pretty significant to back up these claims.
The Ariel has built in wireless control in the from of both Bluetooth and WiFi. The T5 bulbs each sit under special shaped reflectors.
That's about all of the info that Pacific Sun has released to this point, but they promise more to come. So, we'll keep our eyes peeled and be sure to stay tuned for updates.