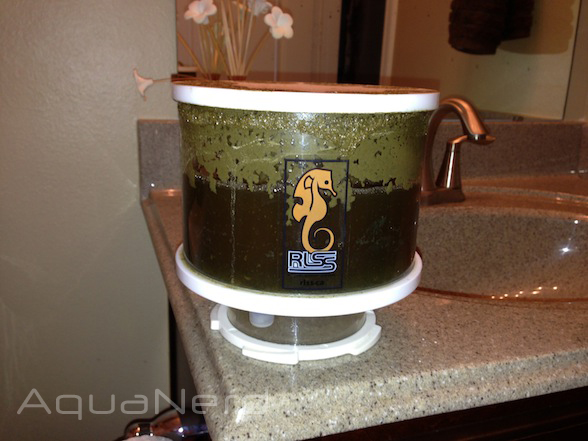 Sometimes our product reviews take a little time to fully complete. We strive to test the equipment under both normal and abnormal operating conditions for an extended period of time in an attempt to really gague how the equipment responds. Such is the case for a RLSS R6-i protein skimmer we received last year. We put the DC controllable skimmer on our 80-gallon frag setup and let her run, and we were more than pleased with the tiny skimmer's performance.
When we first received the skimmer, it came all boxed up in a heavy wood container. The packaging was more than overkill, and despite it taking some effort to get into, we had the skimmer unboxed in a mere matter of minutes. We pieced the skimmer together a little at a time, inspecting every item along the way. The instructions were very detailed, though all of the assembly was pretty intuitive and didn't really require them.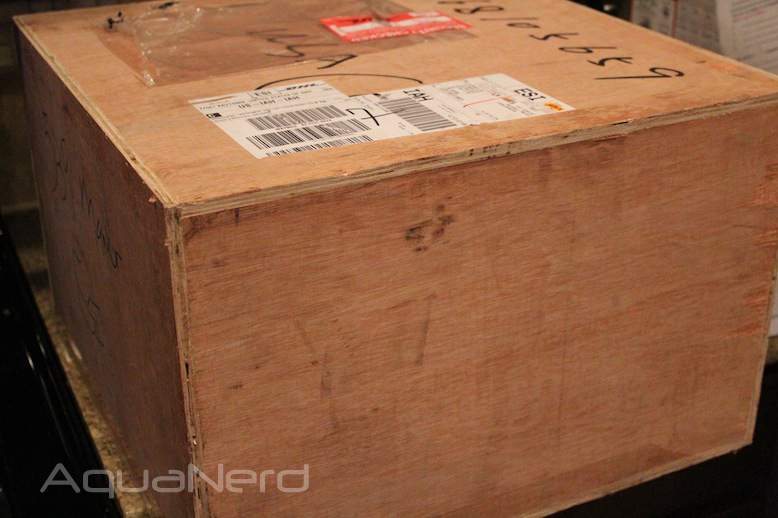 After assembly and a brief photo session, we yanked the old behemoth skimmer from our sump and tossed in the much smaller R6-i. Comparatively, the R6-i was significantly smaller at just a little over 20″ tall. We were quite happy to have some sump space back, but given the skimmer's teeny tiny size, we didn't know if it would be able to handle the volume of the aquarium. It is rated for roughly 100-150 gallons, which was obviously way more than the volume of the frag tank at just 80-gallons, so we put our short-lived concerns aside and pressed on. We fired the skimmer up and waited to see how it would fare.
The immediate noticeable difference between our old workhorse and this new RLSS skimmer was the noise. Our old skimmer was really loud and always had a gurgling noise as it sucked in air and water. The R6-i, on the other hand, was dead silent, and I'm not even exagerrating. Sitting right next to the open stand, I could not hear it at all.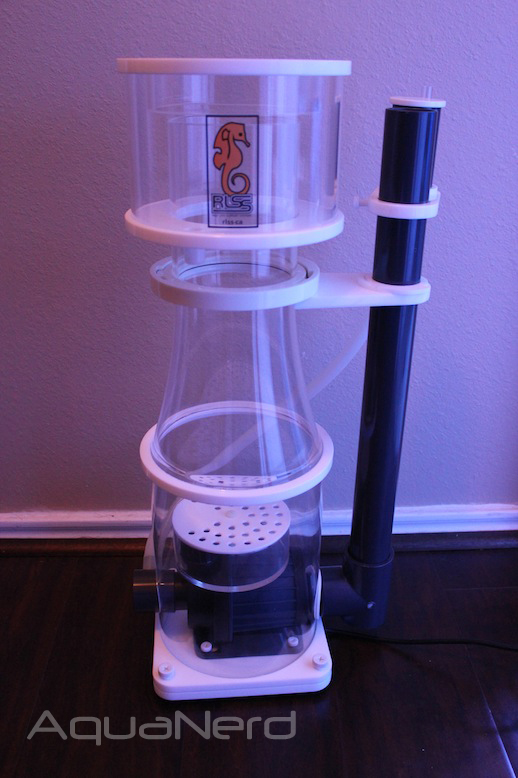 Happy with our initial setting up of the skimmer, we walked away and let it do its thing. We checked back the following morning and noticed a nice buildup of skimmate already. Most skimmers go through a 24-48 hour break-in period to remove oils and other substances from the manufacturing process, but we started getting tea colored skimmate from the R6-i within a matter of hours. It wasn't a lot, and we still had to dial in the water level and adjust the pump speed to find the sweet spot, but it wasn't a bad start to what would eventually become a solid performing protein skimmer.
Within a couple of days we had to dump and clean the collection cup, and the consistency of the skimmate was quite dark and plenty of muck built up on the inside of the skimmer's neck. After cleaning, we put the collection cup back onto the skimmer, turned off the feeding timer, and the protein skimmer was back at making tiny little bubbles. The skimmer performed consistently over the span of our review, needing to be dumped every few days despite a very light bioload and minimal feeding.
In comparison to the skimmer it replaced, the R6-i collected far more dissolved organic waste from the aquarium. Our previous skimmer would fill a cup after approximately two weeks, but the RLSS cone needed to be emptied at least weekly, and that was pushing it.
As far as the controllable pump goes, we enjoyed tinkering with this feature, but once it was set, there was really no need to tinker with it. That said, when we made any changes to the aquarium (e.g. adding a filter sock), turning down the pump speed proved to be really handy. This feature was also really nice when we wanted to quickly change from drier skimmate to wetter skimmate production, though that could have also been accomplished by changing the standpipe. The feeding timer was also great, especially during those quick collection cup cleanings, so we were constantly hitting that button. During our repeated use and abuse, the controller always responded immediately to whatever alterations we made.
Overall, we were quite pleased with the production and consistency of the RLSS R6-i protein skimmer. We still have it in use on our frag tank to this day, cranking out bubbles as usual. For the scant retail price of $350, it really can't be beat in our opinion.