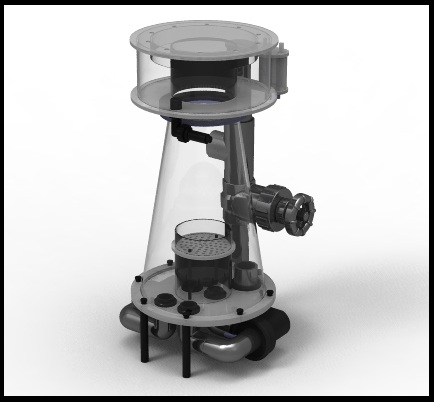 After more than a year of designing, building, and testing, AVAST Marine Works has finally put their CS3 Cone Skimmer into production. This DIY kit skimmer is the big boy of the AVAST lineup, sporting a 10″ diameter cone body and twin Sicce PSK-1000 needle wheel pumps that crank out a combined 2200 lph air. The impressive array of features allows the CS3 to handle marine aquariums ranging from 300-500 gallons, and its recirculating design means it can operate at just about any water depth.
While we're always excited about new product releases, we're really looking forward to what AVAST Marine Works is currently in the process of testing. Like many of the different protein skimmer manufacturers, AVAST is currently tinkering around with controllable DC pumps. A few models have been built around the Waveline DC5000 and DC10000 water pumps, and at some point those pumps should be optional equipment for the AVAST skimmer line. We've been told that a larger CS5 skimmer might be coming out really soon. We have really liked our Waveline DC pump driven skimmer that we've been using long term, as the pumps are solid performers and run very quietly. The pumps will definitely benefit this skimmer lineup.
Technical Details of the CS3:
Tank Rating: 300-500 gallons
Footprint: 16″x16″
Height: 25″, with Swabbie 27.75″
Cone Diameter at Base: 10″
Neck diameter: 5″
Collection Cup Diameter: 10″
Collection Cup Drain: 1/2″ Union Disconnect
Air Silencer: Over sized
2x Sicce PSK1000 performance: 2200 lph @ 46w
For in sump use only. 0″-16″ depth. The standard recirculating configuration allows the skimmer to run in any depth up to the level of the neck union.
Water feed required (recirculating mode only): 300-500gph
Pump Warranty: 1 year.