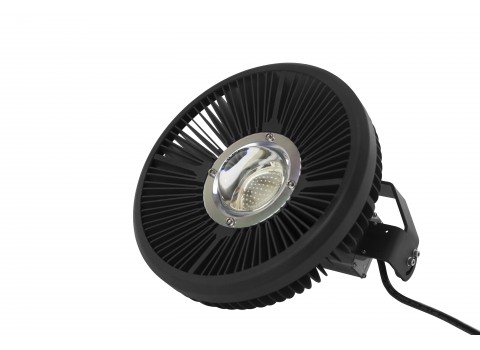 Ecoxotic has gone back to the drawing boards and have released a new, and drastically different, version of their popular Cannon LED pendants. This new light, called the Cannon 100W Flood LED, is similar to the other Cannon products in that it uses a very powerful, high density multi-chip LED that can penetrate even the deepest of aquariums. Unlike the other Cannons, however, this version is a floodlight that really spreads out the photons, and with a great deal of uniformity to boot.
The Cannon floodlight will be offered in two different models, one in 10,000K white and one in 456nm blue, both of which will have a wide diameter multi-chip LED, 60 degree optics, an integrated electronic LED driver, and a mounting bracket that allows for 180 degrees of rotation. With the 60 degree optics and the wide diameter emitter, light from the Cannon 100W Flood LED can penetrate depths up to 18 feet, but even in shallower setups, the spread is just amazing. While we haven't seen these lights in person, as they were just debuted at Aquarama in Singapore a little more than a week ago, all of the photos we have seen really show how uniform the spread is.
Getting back to the technical details, the Cannon floodlight utilizes an aluminum body that serves as one big heatsink that aids in keeping the electronics running at optimal temperatures. For obvious reasons, that heatsink is designed to resist the salty environment. Dimmable LED drivers and other optics are available on request, but details regarding the price of these items, and the entire fixture in fact, has been kept behind the scenes.