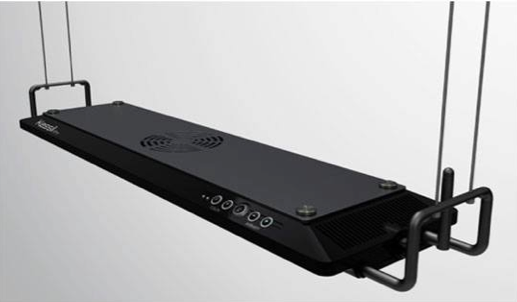 When it comes to aquarium illumination, the guys at Kessil seem to have the Midas touch. Since starting their foray into the aquarium realm back in 1Q 2011, at least in the eye of the public, each of their entries onto the market have been extremely well received. Their first product, the A150 and its variations, debuted with a huge splash, and that's probably an understatement. Since then, the A350 and A360 have racking up even more fans to the brand, impressing us greatly along the way. To date, each of the Kessil products designed for aquarium use have come in the form of LED pendants, and it would appear that the lighting specialists are toying with the idea of branching out, at least where form factors are concerned. They recently teased all of us aquarium nerds with a couple of digital renderings of a potential Kessil LED panel light fixture over on their Facebook page. And from the looks of it, they're on the right track.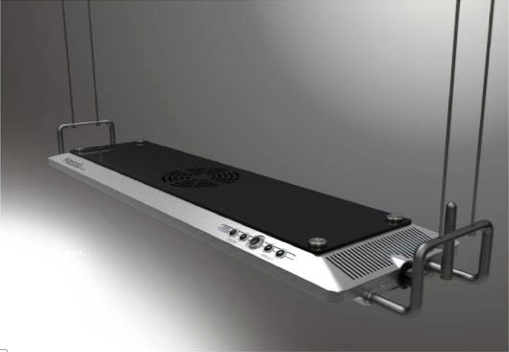 Pendant style lighting is sleek and stylish, but not everyone is a fan, choosing to stick with long fixtures instead. Each style has its pros and cons, and if you polled forum users, we know you would get a thousand different opinions. Regardless, there is a real market out there for light fixtures, so it's no surprise that companies like Kessil are thinking about adding them to their offering.
So, what sort of gear is Kessil looking at? Well, their latest digitally conceptualized fixture, which is just being called a "secret" Kessil panel light, is around two feet long and draws approximately 100w.  The renderings show off a sleek, low profile light that can obviously be suspended over an aquarium. The hanging brackets that are attached to the fixture look remarkably like on-tank mounting legs, but again this is all a digital drawing board at this point. A handful of buttons grace the front of the fixture, a large top mounted fan provides activine cooling, and there might be some sort of antenna located on the right hand side of the light, though it's hard to tell. We're sure that the fixture, if it ever comes to fruition, will play nice with the Neptune Systems Aquacontroller, and going off Kessil's track record, we know we won't be disappointed.
We honestly like the look of this fixture, and it's a huge step up from the first concepts that were being rolled out (see below). While virtually all of the details of this secret panel light are still way up in the air, we're glad to see that Kessil isn't limiting themselves to just one style of light. Now that we have an idea of what Kessil is trying to accomplish, our big questions will center around the type and quantity of LEDs used. Will Kessil stick to the multi-chip LED that made all of their other products smash hits? All of that remains to be seen, but we will definitely be keeping our eyes peeled.