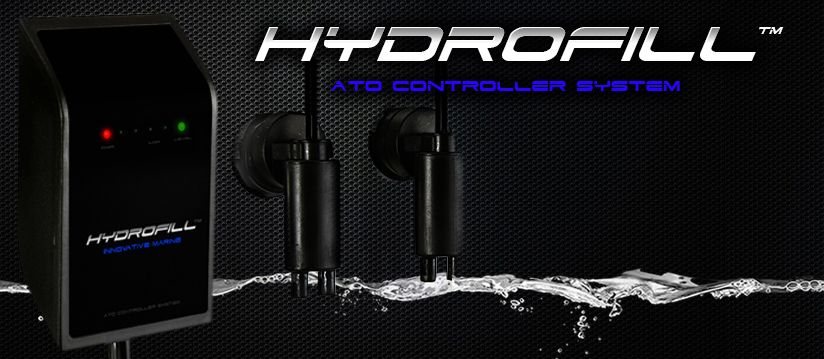 The guys at Innovative Marine are just determined to give their aquarium line as much horsepower as possible, especially as they continue to flesh out their Auqa Gadget lineup. Their newest addition to the ever growing array of aquarium accessories is the HydroFill auto top off controller system. Currently, the aquarium marketplace does have several auto top off setups, but very few of them are designed to service smaller aquariums. Fortunately, the tiny form factor of the IM HydroFill hardware makes them ideal for systems of all sizes.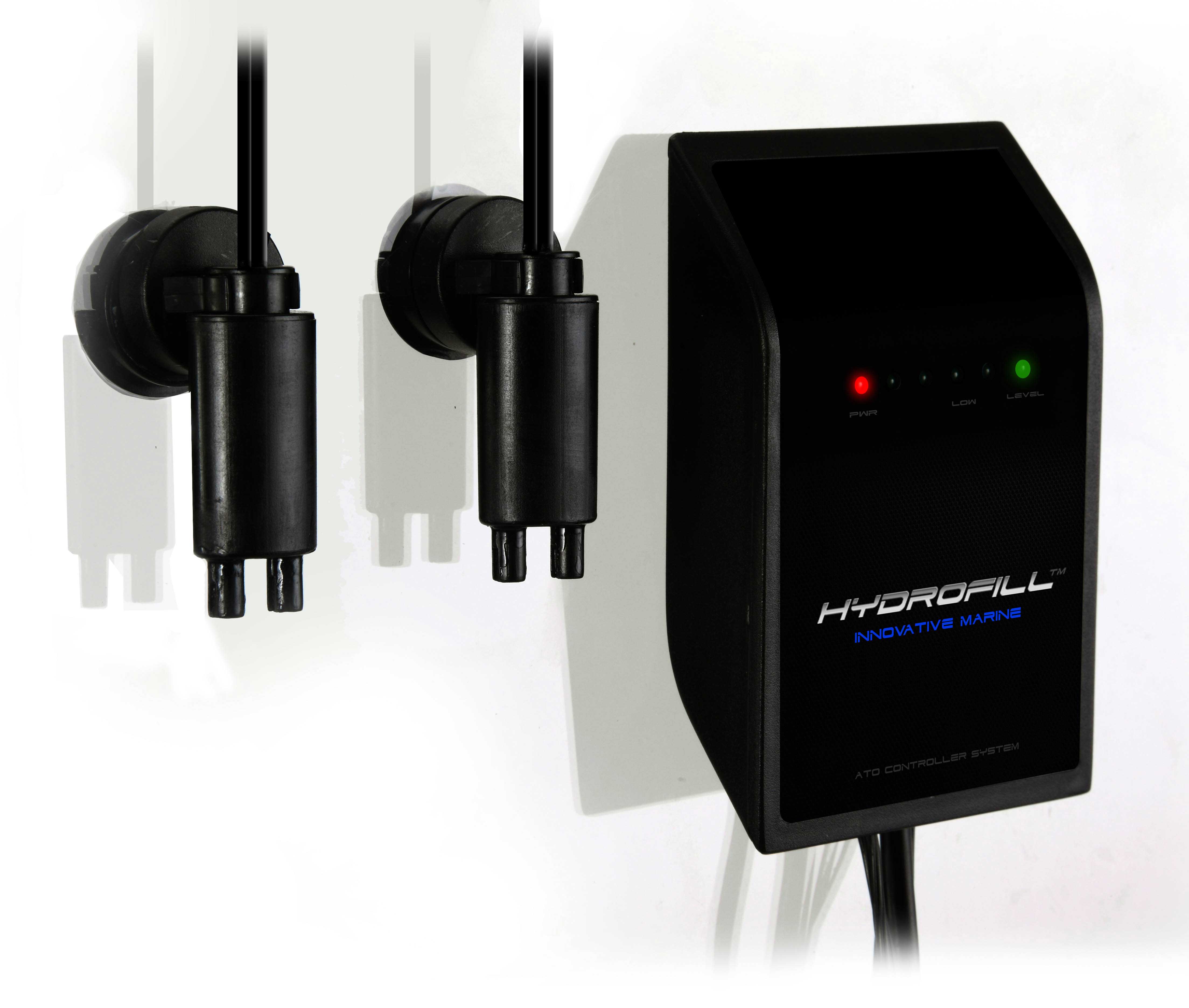 The HydroFill ATO Controller System operates similarly to other top off systems currently on the market, but does it much better and safer. Instead of using two float switches to tell the pump when to turn on and off, it uses two conductivity switches that are completely devoid of moving parts. These switches aren't affected by wandering snails or a piece of floating debris, making them a much safer piece of equipment that won't cause the pump to overflow your aquarium.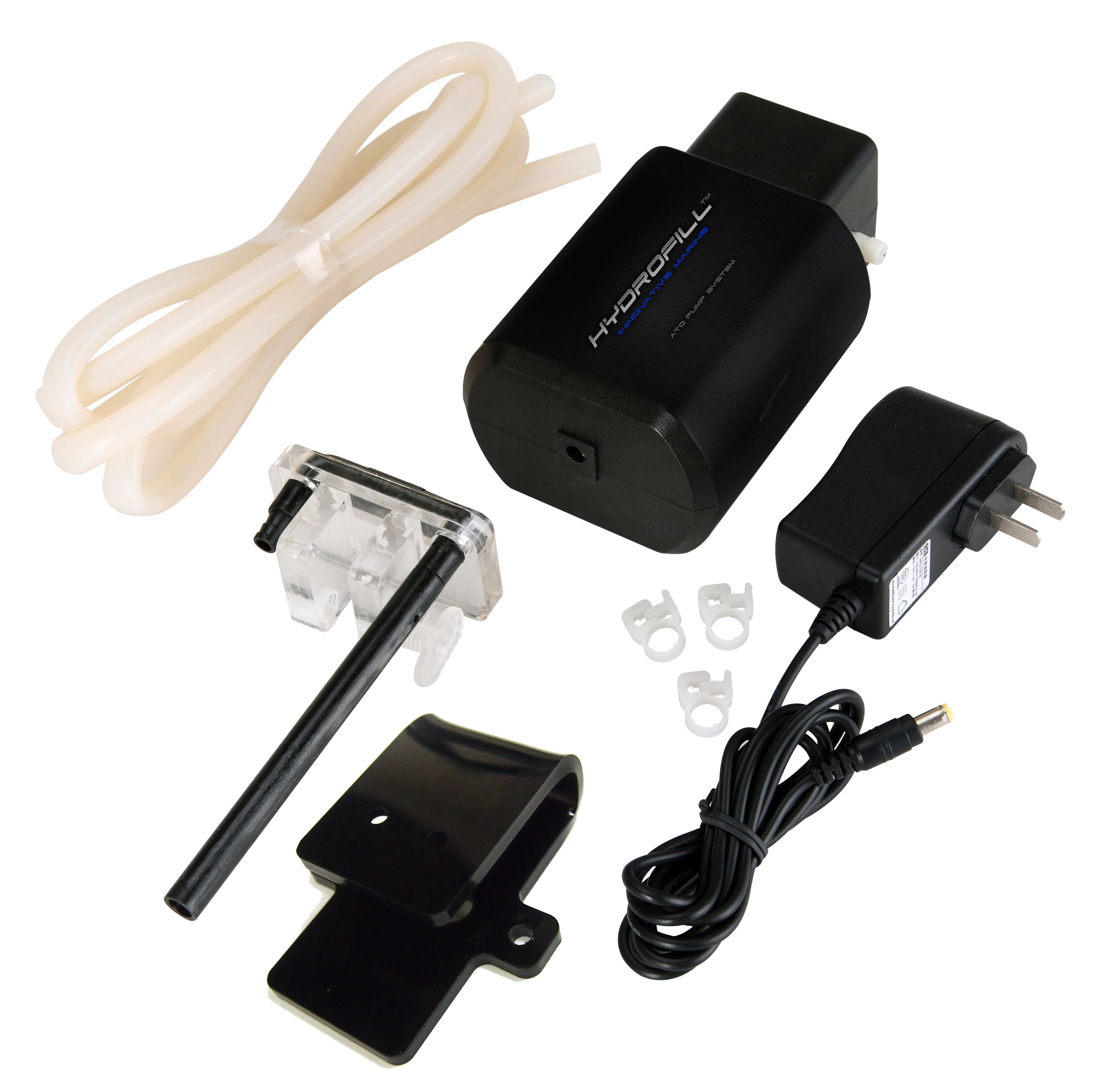 The use of two switches in the HydroFill system allows hobbyists to set their own "maximum" and "minimum" water level in their sump or refugium, and their positioning is made super easy with neodymium magnet mounts. So, no more drilling holes for float switches, using suction cups, or ugly brackets. And not to mention, the sensors have a tiny profile, which means they can go all those places that float switches can't. As an added safety feature, each sensor sports two chemically inert graphite electrodes for redundancy and consistent long-term performance.
In addition to the controller and conductivity switches, the HydroFill ATO Pump System comes complete with a lift pump, acrylic bracket, return pipe, 10 feet of silicone tubing, three hose clamps, and an optional hanging mount. The pump is an external positive displacement diaphragm pump with a total output up to 15 gallons per hour and max 5 feet of head. It is self-priming and even has a built-in check valve to prevent back siphoning, which would prevent a pump failure from draining all that water back into the top off container and possibly overflowing it.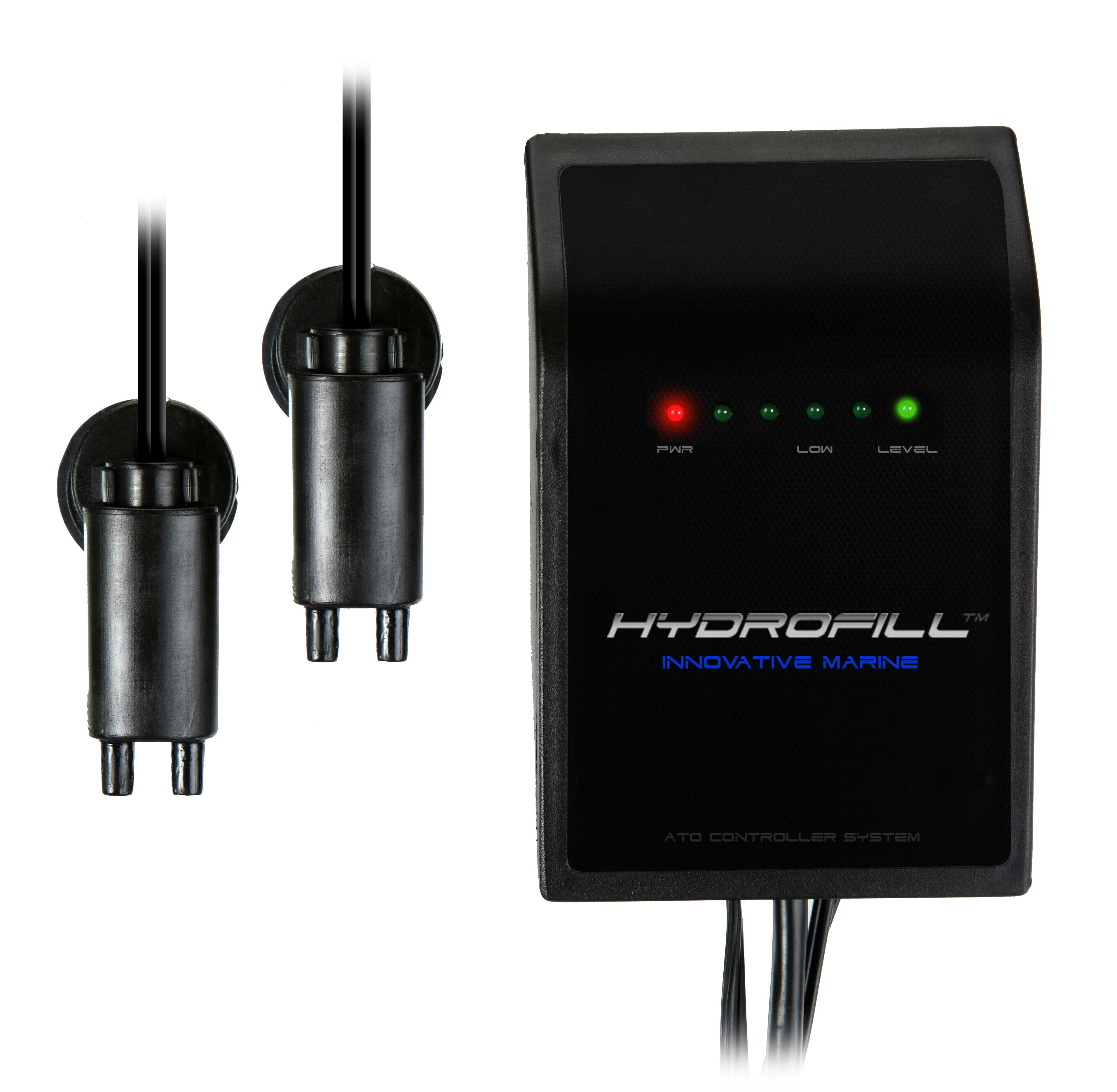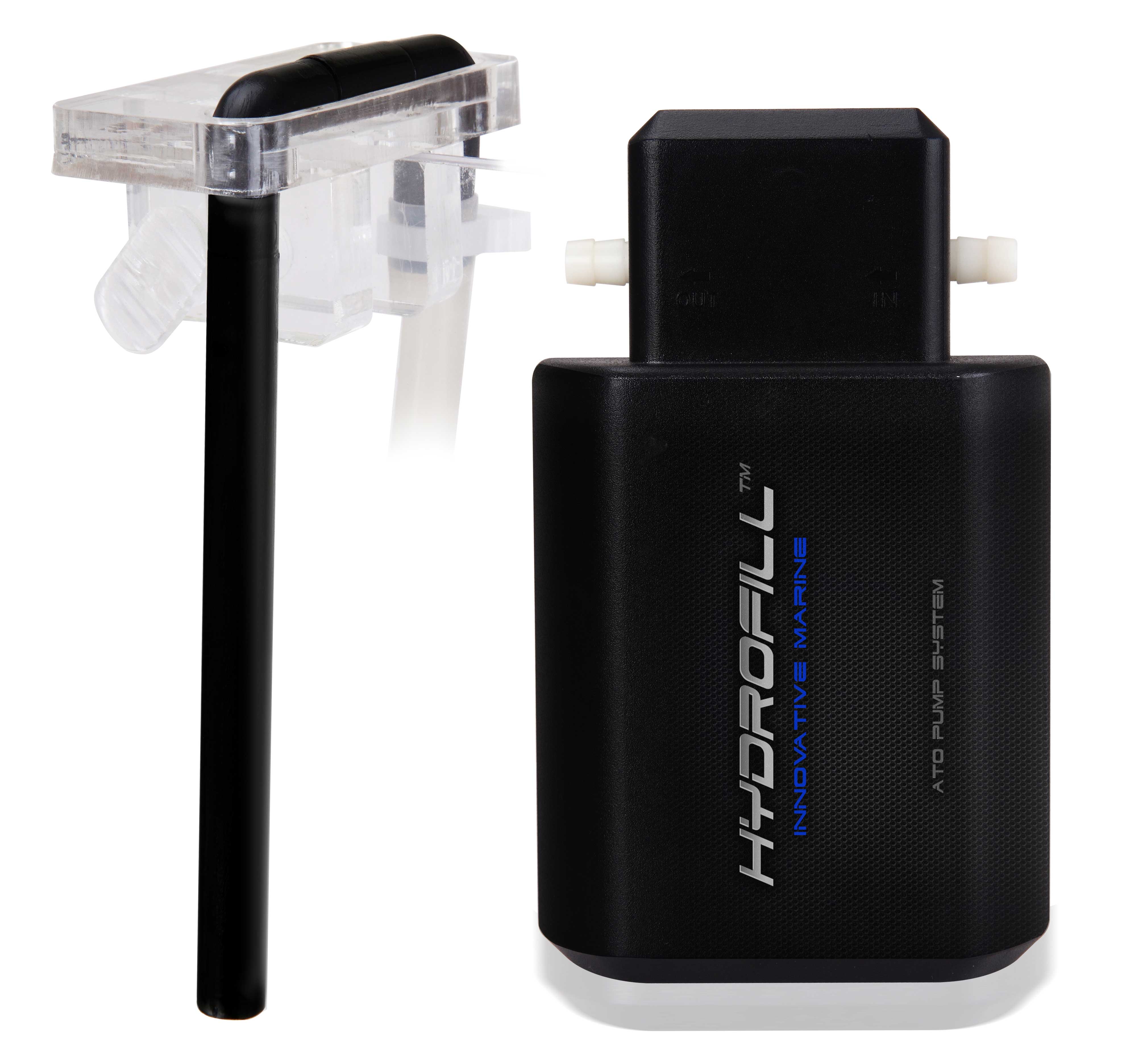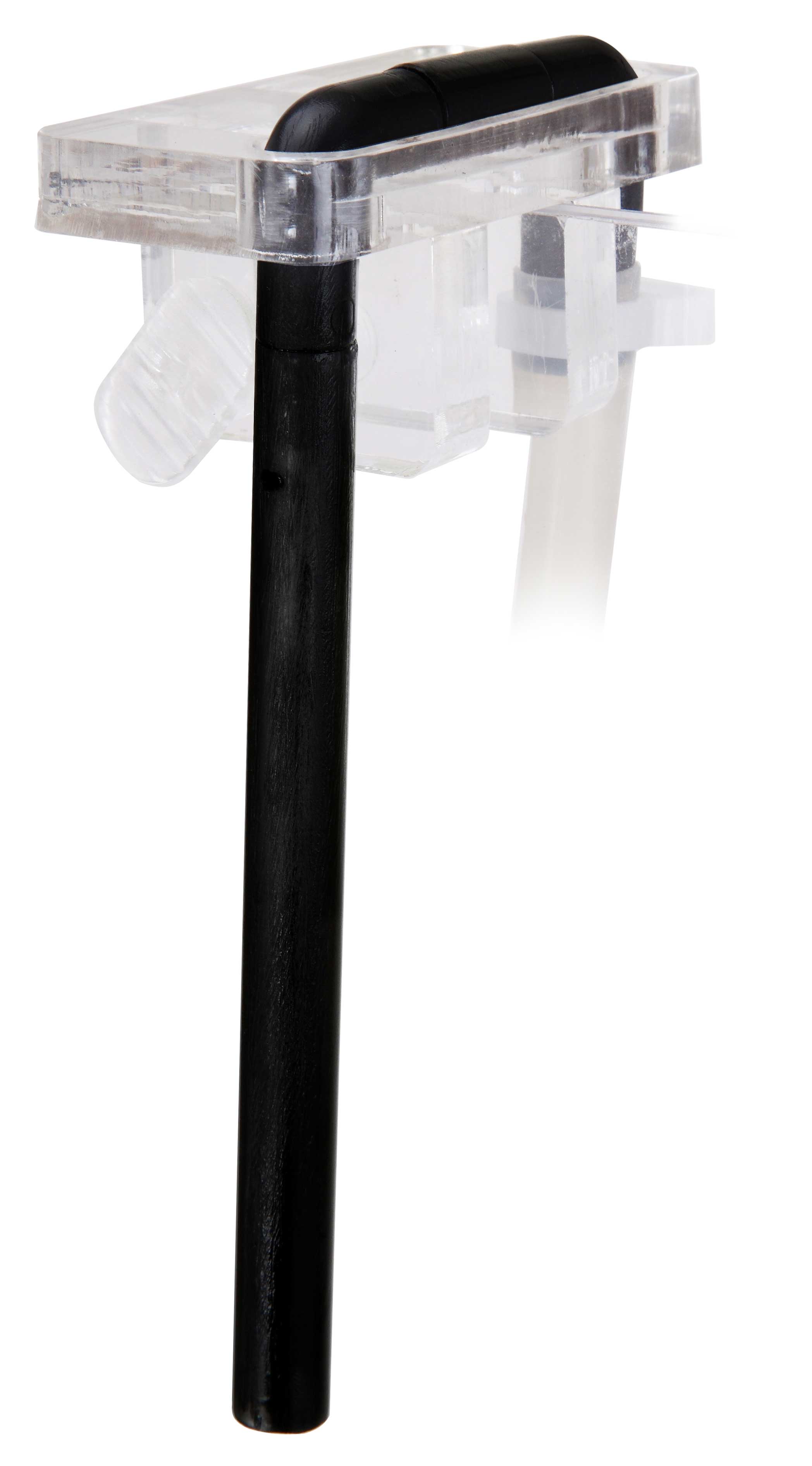 Features:
Controller:
2 Year Warranty
Conductivity Method
For use in Fresh & Marine Applications
Controller Dims: 3.35" x 1.18" x 5.12"
Includes Double Sided Adhesive
1000W, 8Amp/120V Pump Capacity
Power Consumption: 1 Watt
Visual LED indicators
a. Power -Red
b. Level – Green
c. Low Level – Green
d. Water Filling – Pulsing Green
Sensors:
Small Form Factor: 0.91" x 1.06" x 2.64"
(2) Sensor Design
Safe 5V Low Voltage
6 foot sensor cables
(2) Rare Earth Neodymium Magnetic Sensor Holders
Chemically Inert Graphite Electrodes
Pump:
Positive Displacement
Diaphragm Pump Method
Self-Priming
Built-in Check valve
Dry Run Protection
Thermally Protected
Low Voltage
¼" Barb Fitting
Up to 15 Gallons per Hour
Pump mounting bracket
Return Kit:
10 feet of silicone tubing
(3) ratchet clamps
Acrylic mounting bracket
Return pipe
Inlet Hose Strainer
And finally, a video!