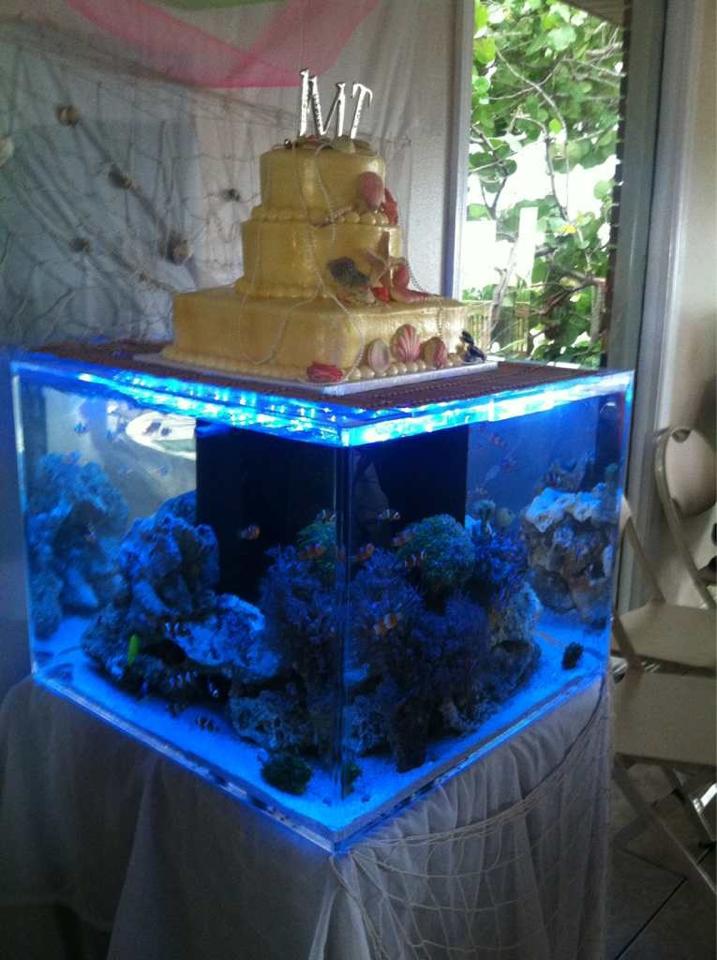 A couple of years ago, we stumbled across an amazing and fully functioning reef aquarium wedding cake that was not only the star of the evening, but absolutely stole our hearts. The only drawback to that first tank, however, was its severely limited volume. It wasn't without reason, as the compromising bride didn't want to distract too much from the wedding cake, but it still left us wanting more. After all, who needs a cake when you have a freakin' reef aquarium at your wedding? Fortunately for us aquarium nerds, the crew at Live Tanks answered those calls for bigger and better, and recently set up a much beefier reef aquarium wedding cake, which they recently shared on their Facebook page.
The acrylic aquarium is a 24″ cube, which has a water volume hovering around 60 gallons. Lighting was provided by a set of LED strip lights that could change color and were mounted into the lid, which was designed to hold the cake. The entire setup was built by the crew at Critical Tanking and was fabricated out of 1/2 acrylic and features a center mounted overflow that feeds water to the filtration system. The livestock list was short, which is understandable considering the short time it would be running. The fish list included several clownfish, which are always a crowd favorite, and some simple corals that would sway nicely in the water current.
The cake itself continues the marine theme, being adorned with faux sea shells and starfish, and having a fishing net hanging behind it.
We wanted to thank the crew of Live Tanks for letting us share this amazing aquarium with all of you. If you're looking to do your own reef tank wedding cake, we highly recommend checking with them to see if they could design one for you, or at least throw a few helpful tips your way.