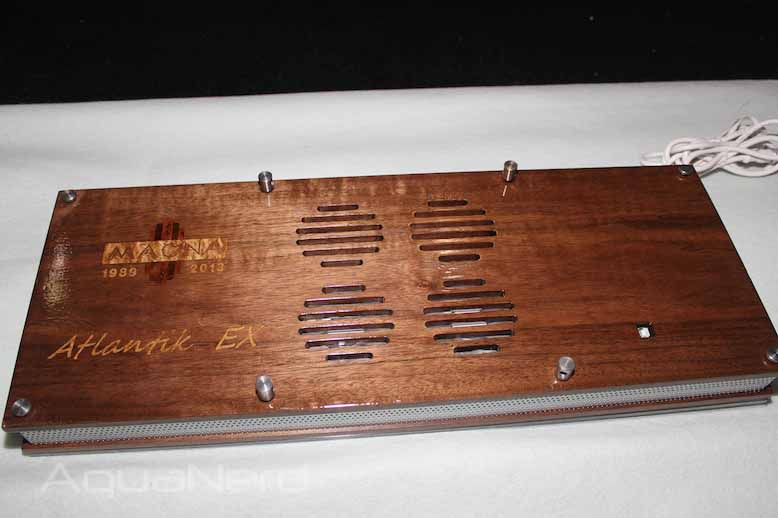 For quite some time now, the aquarium industry has been shifting more and more toward that clean, ultra modern look with simpler designs and lots of straight lines. Well, the Orphek crew are bringing a little more warmth back into those modern stylings with some fantastic looking wood accent pieces for their LED fixtures. These CNC machined wood panels dress up the top and bottom of the light fixture, leaving a great looking contrast between them and the aluminum panels and hardware. The panels can be removed with ease, and any one of a limitless number of colors can take its place.
Currently, Orphek is only showing the panels off for their Atlantik EX LED fixture, and in the dark oak stain. Other models will also get the wood treatment, if the customer so desires, and they will be available in whatever color the customer wants. Let's be clear, this isn't a standard feature that will replace the acrylic body currently seen on the fixtures. Instead, it's a custom option that will have to be requested. Orphek says they will work with their customers to match their light fixture to whatever color they want, with the idea in mind that the light will extend the same style of the aquarium upward.
As for the manufacturing of the panels, they look pretty straightforward, but are actually quite intricate. The wood panels are cut with a CNC machine to get fan vents, bolt holes, and LED holes lined up just right. The engraving in the wood is a whole other store altogether. Besides just cutting groves into the wood for engraving purposes, which would make the surface bumpy, Orphek decided to fill the holes in with a different color of wood prior to putting on a clear coat. With today's machining technology, it may not be a painstaking process (then again it might be), but it's the attention to detail that we just absolutely love.