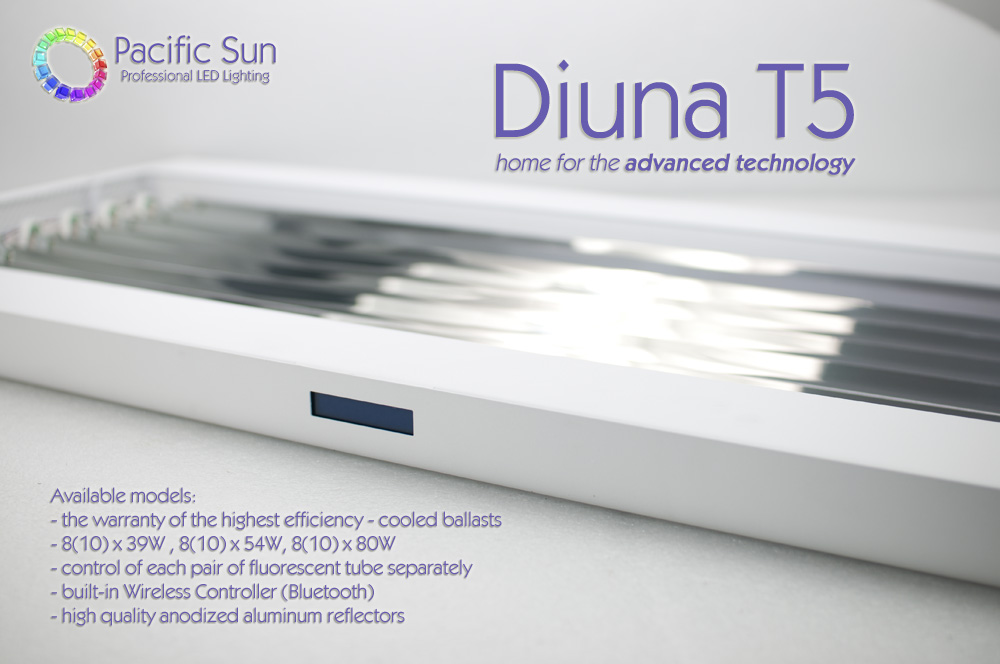 When it comes to aquarium illumination, LEDs may be the hot item right now, but older technologies like T5HO fluorescents still have a very loyal following. Because of this, aquarium lighting companies are still cranking out the T5 fixtures, with the latest being the Diurna from Pacific Sun. While not much has changed in the way of fluorescent lighting tech over the years, many of the newer fixtures are getting some swanky features that still make them very competitive with all of the LED products. Pacific Sun is no stranger to high end, feature rich lights, and the Diuna represents the pinnacle of fluorescent lighting for aquarium use.
The Diuna has all of the standard top shelf features like high quality anodized aluminum reflectors and dimmable ballasts. But where it really stands apart is in its interface. Where most light fixtures these days have on/off switches and perhaps some controller connectability, the Diurna has a built-in Wireless Controller that uses Bluetooth to connect with nearby devices. Additionally, it has native apps for Apple iOS, Windows and Android.
The fixture is available in three different lengths (three, four, and five foot), with each holding an array of either 8 or 10 T5HO tubes. Additionally, the bulbs and ballasts are configured in such a way that only two bulbs are on one of the controllable ballasts. This allows for a wide variety of dimming, sunrise, and sunset lighting effects.
Price and availability to follow soon.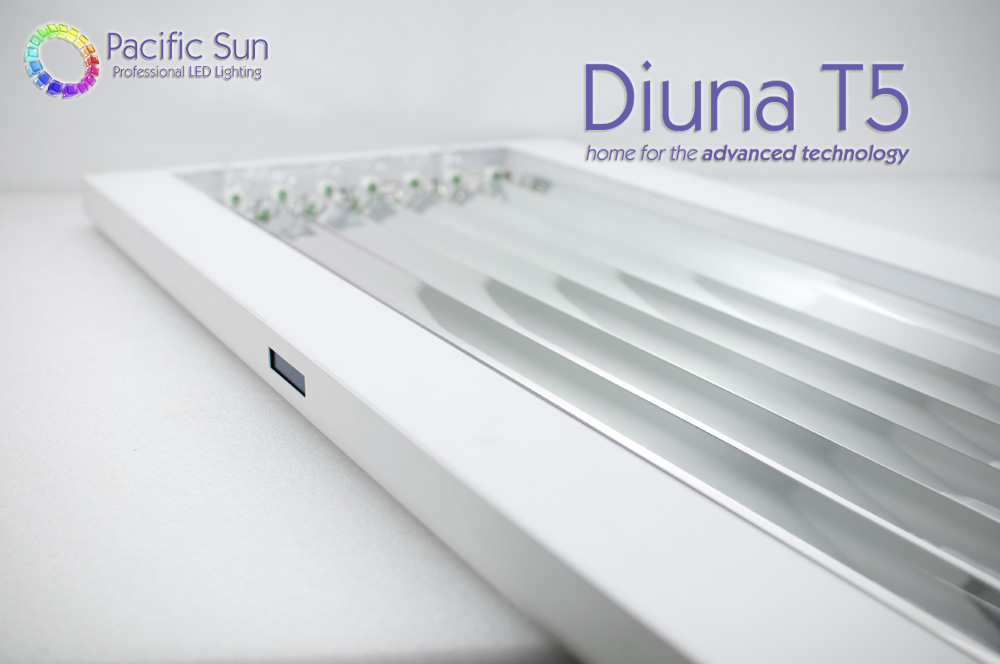 Available models:
the warranty of the highest efficiency – cooled ballasts
8(10) x 39W , 8(10) x 54W, 8(10) x 80W
control of each pair of fluorescent tube separately
built-in Wireless Controller (Bluetooth) – native apps for Mac/Win/Android
high quality anodized aluminum reflectors
build in led moonlight
3 years warranty