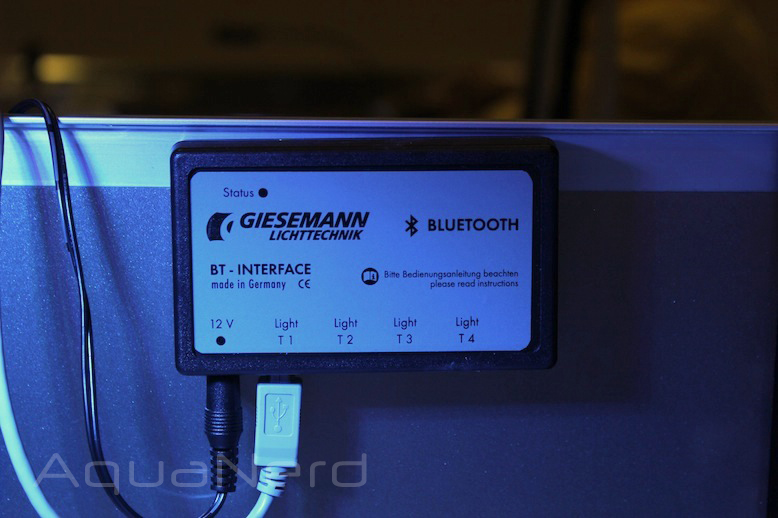 When it comes to good looking and well designed aquarium lighting products, there are few out there that rival the Giesemann Teszla LED fixtures. Besides their stunning design, the lights are also loaded to the brim with features, and it looks like they'll be getting a key accessory to make their use so much easier. Announced at MACNA, Giesemann is releasing a Bluetooth interface, simply called the BT-Interface, that allows users to control up to four Teszla or Teszla-XT LED fixtures with their PC, Mac, smartphone or tablet. With the software interface, aquarists can fully adjust all three color channels using the multi-point time and intensity plot system, create elaborate storm and cloud simulations, and enact a 28-day real-time lunar cycle.
The BT-Interface does require a physical connection to each of the fixtures that it controls. This is done through any of one of four on-board USB sockets and their associated cables, but once connected, the lights can be controlled via Bluetooth connection with any capable device. The LEDs in the Teszla lights are controlled by microprocessors, which receive their operating instructions from the interface system.
The BT-Interface has a European price tag of € 199.00, and we haven't seen an official price for the US Market. The software, on the other hand, is available free of charge.
Giesemann's use of Bluetooth instead of WiFi has both its ups and downs. The big downside is the limited range of Bluetooth. With a WiFi capable device, you could control a light from virtually anywhere in the world. With Bluetooth, on the other hand, you pretty much have to be in the same room in order to make changes. Now, one could easily make the argument that you don't want to adjust the color of the light from a significant distance, such as when you're traveling, but we are not fans of being handcuffed by technology. The other downside is that the fixtures require a constant connection to the interface, instead of receiving their signals wirelessly. This is not a problem caused by the interface itself, but a limitation of the light fixture. Wires can be very unsightly, especially for a fixture who prides itself on clean lines and a sleek look, and we've all seen how popular devices like the ReefLink from EcoTech Marine are and how users have basically demanded the wireless communications.
All that said, the Teszla has been around since just before the announcement of the revolutionary Radion, and up until just recently, the Radion didn't even have full wireless control (technically it's still not available to the masses, but it's virtually here already). The point we're trying to make is that a new Teszla model might have WiFi and other wireless options, , with the BT-Interface possibly acting as a bridge to get to that point. Of course, this is all just speculation on our end, and regardless of wireless features, it's still an amazing looking fixture.