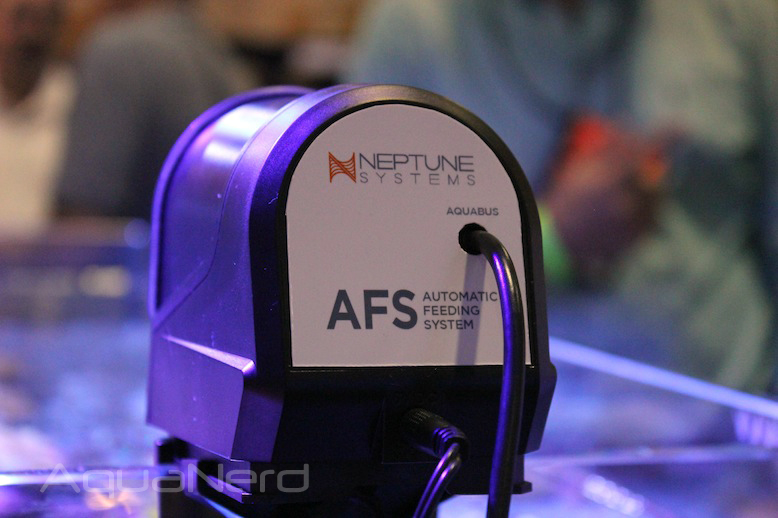 Neptune Systems had quite the busy MACNA weekend. Besides their day one user workshop and the announcement of wireless Radion support, AI wireless support (more on that later), and Apex Fusion, they also released their new Automatic Feeding System (AFS). The AFS is the first controllable automatic fish feeder to make it to the aquarium industry, and with all of the safeguards and control functions built into the Apex controller, it will likely be the easiest and safest to use. On top of that, the feeder can be programmed to add food to the tank not only on a frequency interval, but also based on various water parameters, really eliminating the possibilities of feeding at the wrong time.
The Neptune Systems AFS can handle various types of dry foods, including pellets or flakes, which can be dosed in varying amounts and frequency. You can feed as little as zero times up to as many as you'd like. Additionally, because the feeder is controlled, it can be programmed to skip a feeding if a certain water parameter is out of whack, and water pumps and skimmers can automatically be shut off during the feeding time if necessary. It truly is one of the last pieces to full aquarium automation, and a welcome site for hobbyists who vacation frequently or just want to set up a fully controlled system.
The AFS connects via the Apex AquaBus-mini Cable and is compatible with the Apex, Apex Lite, and Apex Jr. AquaControllers. The food itself is contained in a sealed "Stay Dry" system that extends outward over the tank during feeding. An adjustable mounting clip is also available, which extends the feeding devices a couple of inches in case your aquarium has a thick eurobrace or some other feature that would prevent the food from hitting the water.
The Neptune Systems Automatic Feeding System retails for $99.95, and the Neptune Systems MACNA 2013 Announcements Round Up page has some great diagrams illustrating how the system works.