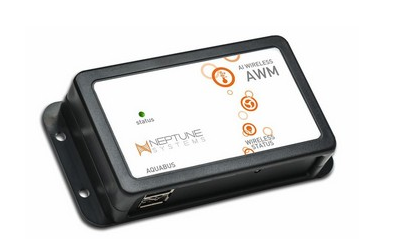 As we've said plenty of times this week and last, Neptune Systems was working overtime for MACNA, showing off several new products that only add to the already immense level of control that their Apex aquarium controllers bring to the hobby. One of the newest items on the list is the AquaIllumination Wireless Module (AWM), which serves as the first ever wireless control interface between the Apex controller and several AI wireless products. With this new module, not only can hobbyists control the lights wirelessly, but they can also control each and every one of the numerous color channels through all sorts of mobile devices or remotely located computers.
With the rising popularity of AI's LED products, including the release of several products with dedicated wireless communication in recent years, it was only a matter of time before Neptune Systems would take advantage of these features. The AWM can communicate with the AI Vega, Hydra, and the brand new Hydra FiftyTwo, but will not be able to control the AI Sol or Nano modules whose abilities have been augmented with wireless dongle. The AWM connects to the controller via the AquaBus, and a 3′ long cable is included.
The expected retail price on the AWM is $124.95 with a proposed release date sometime in November of this year.