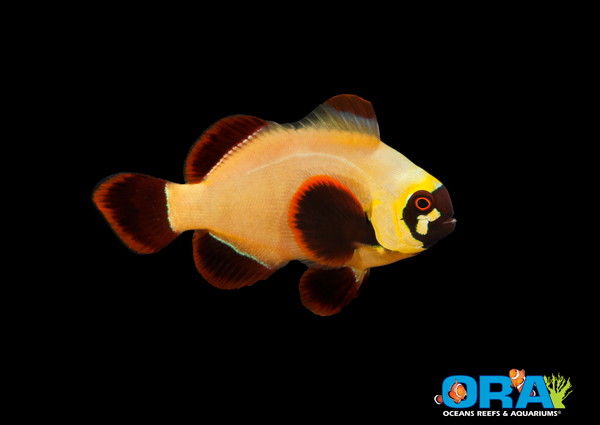 A little more than a year ago, ORA announced the availability of the Goldflake Maroon Clownfish, while at the same time teasing us with their tiny Gold Nugget Maroon Clowns. At the time, ORA wouldn't give us a release date for the Gold Nuggets, instead only teasing us further by showing the fish off at MACNA 2012 and other trade shows. Well, we're happy to report that the day has finally come for the clownfish to be commercially available, and the timing is perfect.
Since traditional goldstripe maroon clowns take about a year to develop their characteristic gold coloration, their gold nugget offspring were expected to follow the same time frame. The fish start out with a large portion of their body being white, but as they mature, the yellowish gold really starts to set in. And by judging from the images we have seen, that gold coloration is going to be fantastic.
As with most of the ORA clownfish that are shipped worldwide, the Gold Nugget clowns will be sold as juveniles, which feature the white coloration. After anywhere from 4 months to a year, the gold will become increasingly noticeable.