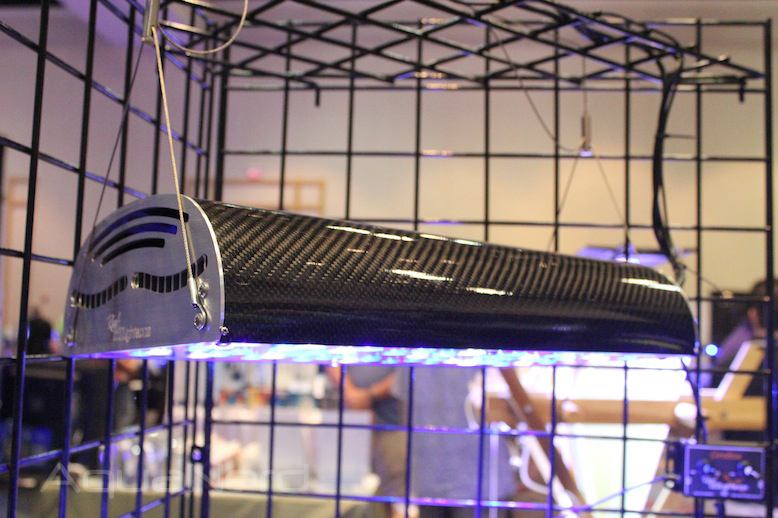 Here's a product we spotted at MACNA back in September that we totally overlooked in our coverage. It's the Reef Spectrum P47, and instead of wrapping a bunch of LEDs in a plastic housing molded around a gaudy heatsink, ReefLEDLights chose instead to put their chassis under a stylish carbon fiber shell. The fixture comes packed with 47 Cree LEDs, two of which are meant to be a moonlight, and a controller that adjust the intensity of the white, blue, and moonlight channels independently. In addition to the manual controls, this well rounded fixture can also be controlled via Neptune Apex and Reef Angel aquarium controllers.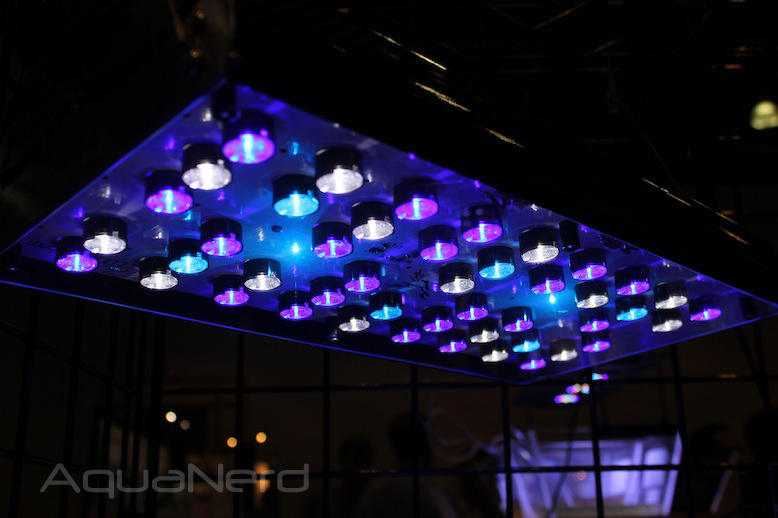 The Reef Spectrum P47 isn't a small or lightweight fixture. It has a footprint of 18 1/4″ x 9 1/2″, and although the product description didn't mention weight and we didn't have a scale with us a MACNA, we assume it tips the scales at probably 25 pounds or more. This is an assumption, and we wouldn't be surprised if it weighed more than that.
Refocusing on the business end of the fixture, Carclo optics are offered in a couple of different varieties to direct the light downward, into the aquarium. Aquarists can choose between Ripple Wide Optics for greater depth penetration or Wide Angle Reflectors for those shallower tanks. With the right optics and settings combo, the Reef Spectrum P47 is said to emit as much PAR as a 400 watt metal halide fixture, with claimed PAR readings of 500 PPFD at a depth of 24″.
As for the LED breakdown, ReefLEDLights packed in 24 Premium XT-E Royal Blue, 6 XP-E Blue, and 15 Premium XT-E Cool White emitters. A pair of XP-E Blue LEDs make up the moonlight. The retail price for the Reef Spectrum P47 is $595, which includes a 3 year warranty for parts and labor. Not included in that price are the DimBox or a hanging kit, both of which can be purchased separately if needed.