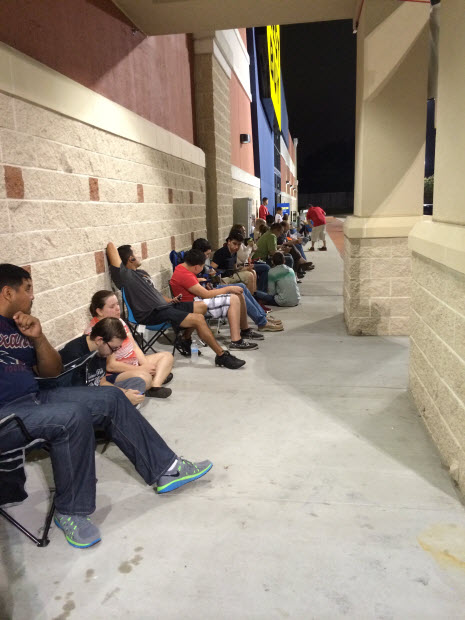 Since Thanksgiving has morphed from a day of family and togetherness into one of almost pure shopping frenzy, we figured we would try to do a good rounding up of all the sweet deals from the aquarium equpiment and livestock retailers. There seems to be a lot more people involved in the sale festivities, and for the first time on a Black Friday/Cyber Monday, aquarist can enjoy some rather generous discounts on products from EcoTech Marine (via online rebate), Neptune Systems, and Reef Octopus…all of which normally have strict pricing guidelines that forces most vendors to keep their prices the same all year round.
Below is our list of retailers and each of their deals spelled out in the best way we could. We tried to cover a wide array of retailers, but unfortunately there are just too many to list.
List of retailer specials, in alphabetical order.
Sitewide discount to a very generous 15% this year with coupon code "BF15". The sale excludes products from Kessil, EcoTech Marine, ProfiLux, Neptune Systems, Digital Aquatics, CoralVue, Reef Octopus, Maxspect, AquaIllumination, Vertex, Korallen Zucht, Speedwave, Sweetwater, Atlantic, and JBJ Commercial Chillers, and AquaCave gift certificates.
In addition to the sitewide discounts, AquaCave also has several deeply discounted doorbusters.
Sale ends December 2, 2013 at 11:59 PM EST
Sitewide discount of 16% off everything with coupon code "Turkey16", though it

excludes

products from EcoTech Marine, Acan Lighting, AquaIllumination, Blueline, Iwaki, Genesis Reef Systems, Giesemann, HM Digital, Maxspect, My Reef Creations, Octopus/CoralVue, Bubble King/Red Dragon, Neptune Systems, Tradewind Systems, Vertex, Korallen Zucht, and ZEOvit. Additionally, items already on sale and previous orders will also be excluded.
Besides the nearly sitewide 16% discount, certain manufacturers will be offering their own specific discounts as well.

Neptune Systems will be 10% off
EcoTech Marine is offering a 20% manufacturer rebate on VorTech MP10, 40, and 60 pumps. Pumps will be purchased at regular price and EcoTech Marine mail out rebates to customers who fill out a rebate form on their website.
CoralVue (Reef Octopus) and Maxspect products will be 10% off with coupon code "VUE10". All products, besides aquariums, will be discounted.
Acan Lighting will have various discounts on specific products, which will appear on Black Friday.
RoboSnail will be on sale for $239.00
Tunze Osmolator will be on sale for $168.95.

This sitewide sale is already underway and ends December 2nd. The special deals on specific brands will run from 11/29 through 12/2.
30% off the ATO Deluxe with coupon code "SITEBUSTER-ATO"
25% off the Smartphone Top-down Porthole with coupon code "SITEBUSTER-PORTHOLE"
30% off all Magnetic Dosing Tube and Probe Holders with coupon code "SITEBUSTER-MAGNETS"
20% off the all new Vibe zeolite reactor with coupon code "SITEBUSTER-VIBE"
Almost 13% off on everything else listed on the AVAST Marine Works website with coupon code "THANKS2013"
Sale runs from 12:00am Black Friday to the end of Cyber Monday at 11:59pm. If any product becomes sold out during this time, AVAST Marine Works will be unable to honor this sale pricing in the future when it is restocked (e.g. no rainchecks)
60-80% off on everything listed on the website (fish and corals). No restrictions or other details listed.
15% off hundreds of "marine critters" using coupon code "THANKSGIV2013" and up to 60% off on hundreds of aquarium supply items. Sale ends December 2nd
15% discount on well over a hundred products, plus up to 40% off on daily doorbusters. Additionally, BRS is participating in the EcoTech Marine rebate program, where customers can receive a rebate of 20% off on VorTech pumps.
Individual discounts up to 40% on certain "Black Friday" items, 20% off EcoTech Marine VorTech pumps via the online rebate, and 15% off any one single non-Black Friday item with the coupone code "EPICSALE". Sale ends 12/2/13 and unless otherwise stated, excludes products from EcoTech Marine, Kessil, Korallen Zucht, Maxspect, Neptune Systems, Polyp Lab, and Reef Octopus.
15% discount on all livestock with coupon code "BF15". No restrictions listed, though available shipping days will be limited due to the holiday.
Sitewide Thanksgiving sale that includes a discount of 16% with coupon code "TURKEY16". Applies only to online retail purchase of drygoods and livestock, and excludes products from EcoTech Marine, AquaIllumination, Neptune Systems, Reef Octopus, and Maxspect, as well as salt, sand, and sale products.
Sitewide discount of 15% off of regularly priced items with promotional code "GIVE15" (exclusions on certain brand names)
10% off discount on products from Maxspect, Neptune Systems, and Reef Octopus, 20% off rebate for EcoTech Marine VorTech pumps, and various other discounts that vary from 15% to 61% off other items.
In addition to the discounts, ReefGeek will offer free shipping on orders over $99 and will have a price match guarantee on same products
Sale ends December 2, 2013.
10% discount off of every item listed on the website, with macroalgae getting a 50% discount. Additional sales on various aquarium livvestock, including buy one get one free on certain items. Sale started November 28th, with no end date listed.
10% discount on every product on the site. There were no restrictions listed, and no specific start or end date for the sale.
Various discounts ranging from 10% to 30% on more than 800 products. The sale started on November 22nd and runs for 12 days.
Cyber Monday sale with over 800 corals discounted by various amounts up to 75% off along with 75 one cent corals, and free prizes that include $100 WWC gift cards, a pair of $300 WWC gift cards, a free trip (ticket, airfare, and one night hotel stay) to Reef-A-Palooza in Orlando, and othe raffle prizes from Sustainable Aquatics and EcoTech Marine. Sale takes place Monday, December 2nd at 11 AM EST with raffle prizes posted every hour.