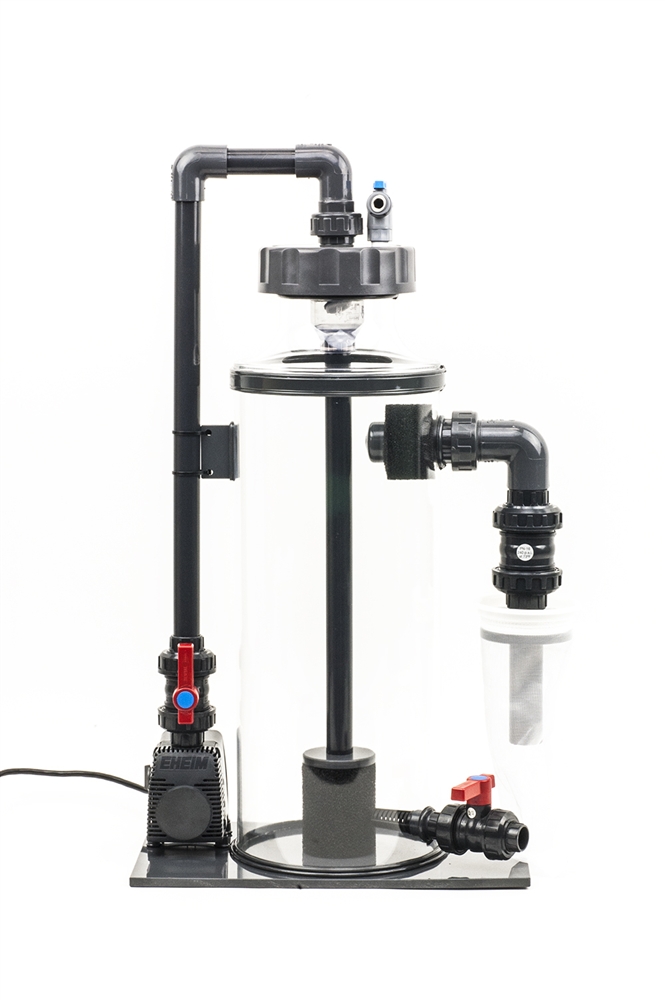 Reef Dynamics, the offspring of EuroReef's dissolution a few years ago, has a beefy new multi-use media reactor that just became available. With a footprint of 9″ x 17″, this reactor is suitable for aquariums up to 1000 gallons and can house several different types of media. Though very large, the Multi-use reactor uses an in-sump design, where an Eheim pump draws in water and forces it to the bottom of the reactor and out of plumbing located in the opposite side. All that said, the reactor does appear to have the ability to be run external to a sump, which would make sense given the "multi-use" descriptor, but we haven't been able to confirm that and our emails to Reef Dynamics haven't been returned as of yet.
The Reef Dynamics Multi-use Media Reactor Model MMR100 has a retail price of $800, and it is currently the only model available, though we'd love to see a few smaller models show up soon.
Specs:
-Footprint: 9 x 17
-Height: 28″
-Reaction Chamber Diameter: 8″
-Reaction Chamber Height: 18.5″
-Reaction Chamber Volume: 4 gallons
-Access: 4.5″ Opening with easy access JAM-LOC quick disconnect.
-Bio-Load Capacity: +/- 1000 gallons system volume; 750 gallons to 1250 gallons
-Media Capacity: Varies with media, but should not exceed 1/2 of reaction chamber
-Native Flow Through Rates: +/- 1000 gph capacity
-Pump: Eheim Compact + 5000
-Power Consumption: 86w @ 110v AC 60hz
The problem with a lot of media reactors in the aquarium hobby is that they are typically limited to certain types of media. While general purpose media reactors have done a great job with housing activated carbon and GFO, aquarium keepers have always had to buy additional reactors for specific types of media, namely biopellet media. It isn't uncommon for hobbyists to have multiple reactors on a single system, but they don't always do this, and can't always afford multiples of the same item for that matter. Because of this, it would be far more useful to have a multipurpose reactor that could handle all sorts of media, from GFO to biopellets.