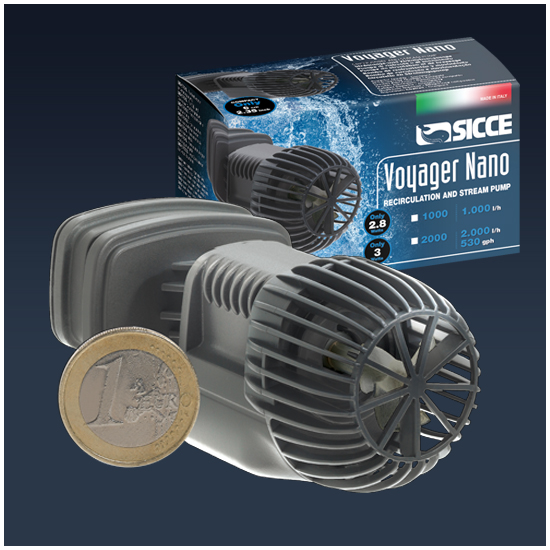 The aquarium hobby is teeming with all sorts of water pumps, with most of the industry's best focusing on medium to large sized aquariums. There is a healthy offering for the smaller side of the hobby, and that segment is about to get a little more crowded. Sicce, the Italian creator of plenty of popular aquarium items, is now offering up a nano model of their crowd favorite Voyager pump. Aptly called the Voyager Nano, this pump comes in two different models, which both have an incredibly small size with a total length around 6.5 cm (barely over 2.5 inches). The flow rates for each model are 1000 and 2000 liters per hour (approximately 263 and 526 gph, respectively).
Another interesting feature, which isn't unique to the Voyager Nano but can be found on all of the newer Voyager models, is an automatic cleaning and lubricating system of the impeller chamber. In addition to keeping the motor and impeller clean and free of bubbles, the system also keeps the motor block cool, prolonging its life. This is especially important for those times when the pumps are being used on pulsing wave makers.
In addition to the aforementioned features, the Voyager Nano also includes a vibration absorbing magnet mount, which is capable of handling glass thicknesses up to 12mm. The magnetic support also gives the pump a rotation of 360°, letting nano aquarists get the flow wherever they need it.