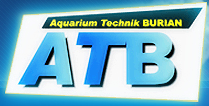 Back in October, we were shocked to hear that ATB USA had lost distributorship of the Aquarium Technik BURIAN brand, and since it was the only brand they carried, we feared that they had gone out of business altogether. Speculation ran rampant, as we and the rest of the aquarium forum hopping community didn't know what to make of the situation. Existing customers were concerned primarily with the potential loss of service and an increased difficulty in trying to buy replacement parts, and potential customers were worried that they may no longer be able to get the legendary ATB products in the US. We would eventually find that Tenji took over where ATB USA left off, which didn't do much to quell fears since nobody really knew who Kenji was, including us. To make matters worse, their website was completely devoid of all ATB gear. After just a couple of months away from their distributorship, however, we're happy to report that ATB USA is back in business and have re-assumed sole distributorship of their namesake brand.
When we first heard about ATB USA taking a back seat to Tenji, we reached out to both companies looking for answers. While our email to ATB USA didn't draw a response, which is understandable considering what they were going through, Tenji did clue us in to at least their half of equation. After a couple of months went by, we wanted to check back in on the situation, so we hit the forums looking for new developments. We heard rumors that ATB USA was back in the mix, and we attempted to contact them once again to verify. Thankfully, we got a very quick response confirming what we hears online.
According to the email we received, ATB USA is back and open for business, and is once again the exclusive North American distributor of the brand. Orders from Tenji will be forwarded back to ATB USA, and all will be well in the reefkeeping world again.