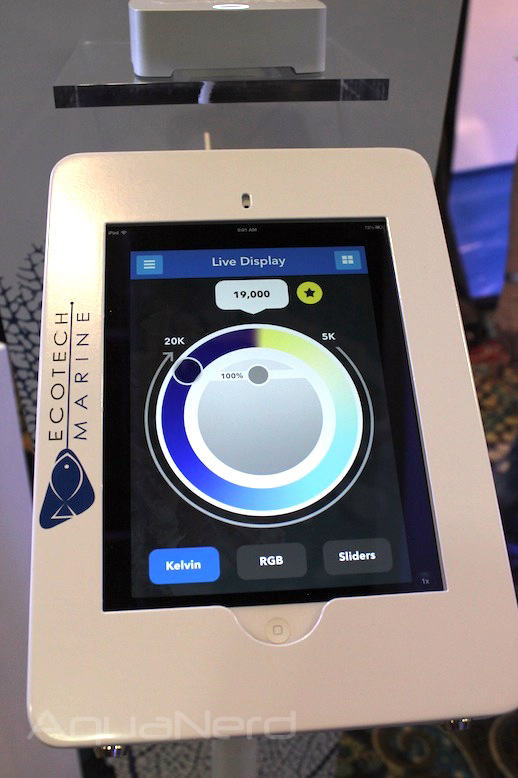 At the end of November, EcoTech Marine officially launched their much touted and highly anticipated ReefLink wireless hub to the mass of aquarium keepers who have been yearning for a way to control their Radion LED fixtures via a real-time wireless connection to the EcoSmart Live platform. In conjunction with this release, EcoTech Marine also gave their EcoSmart Live a much needed mobile-friendly app that would allow smartphone and tablet users to be able to access and control their ReefLink from anywhere in the world. Available to download for free from the iTunes, the EcoSmart Live app has multiple menus that allow the light from the Radion fixtures to be finely tuned with a simple swipe of a finger. An Android app is also in the works, and EcoTech Marine has announced that internal beta testing will start this week and that they will be accepting external beta testers for that platform in the weeks ahead.
Getting back to the app itself, we first saw it at MACNA 2013 when the ReefLink was initially being debuted. The app was being displayed on an iPad, and it ran quite smoothly and was very easy and intuitive to use. With the app, users can adjust the Kelvin (color temperature) of the Radions that are in use, as well as customize the RGB output or tinker with the intensities of any one of the six individual color channels. Also seen in the app is a "Radiant Color" tab, which is a special lighting schedule designed to hit your tank with some heavy blues in the morning to make the corals pop before ramping up to full spectrum during the middle of the day, then back down to the blues for some easy evening viewing.
The ReefLink retails for $199 and is currently availble to purchase at your closes EcoTech Marine authorized retailer. The EcoSmart Live app is free and immediately available to download from iTunes.