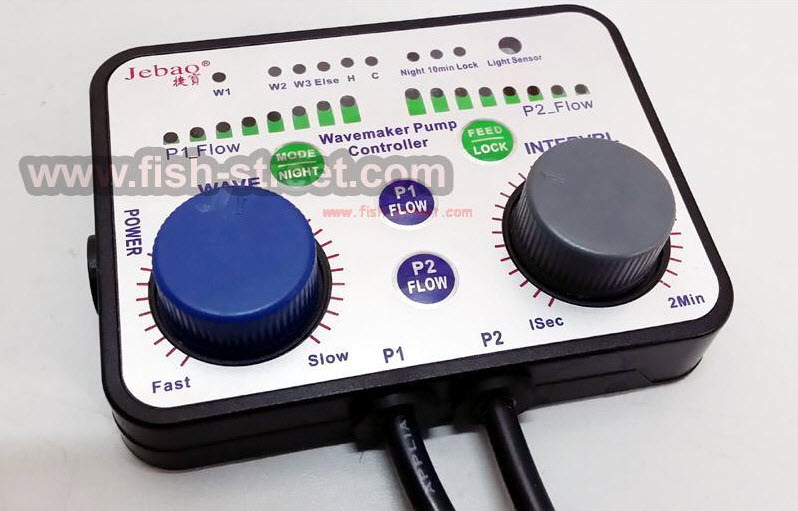 Announced earlir this week, Jebao has released a brand new Twins Controller for the unsually popular Jebao WP Series and FS Type next generation pumps. After sorting through the poorly written announcement, here are the details of the controller that we were able to come up with. The new Twins Controller, which was designed by Fish-Street engineers, provides more flow patterns and a higher output than its predecessor while using up one less power outlet and controller port.
Where the old controller had three preset flow rate settings (50, 75 and 100%), this new controller has a range of 30-100% with far more steps in between. In terms of functions, the Twins Controller also allows for alternating pump mode and a switch mode, which allows one pump to act as a stream and the other as a pulsing wavebox.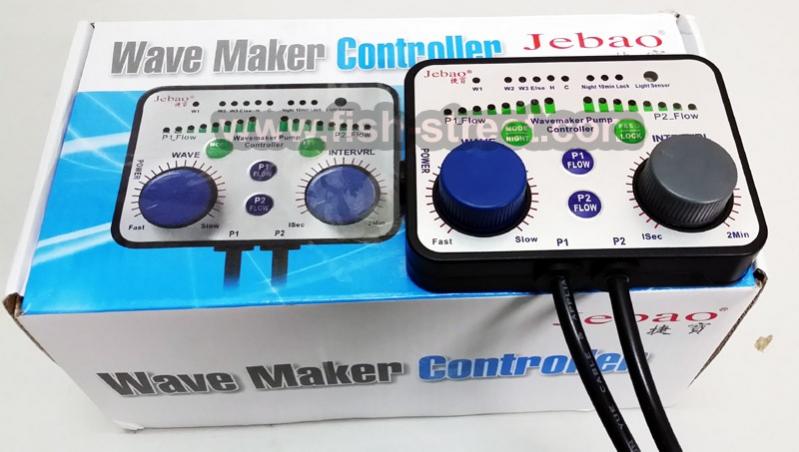 As far as all of the buttons and indicator LEDs go, Fish-Street provided a pretty thorough breakdown of what each does. And not trying to re-invent the wheel, here is there descriptions:
MODE/NIGHT: Press the "MODE" button once to select the function, long press to enter into Night mode.
FEED/LOCK: Press the "FEED" button once to get into 10- min feed mode, long press to lock the knob.
P1_FLOW: Setting the flow rate of P1 Pump.
P2_FLOW: Setting the flow rate of P2 Pump.
WAVE(Orginial Wavebox Functin): Adjust the period of wave mode to your desired wave.
INTERVAL: Adjust switching mode to switch the period.
W2: WAVE MAKING and FLOW MAKING combined MODE (WaveBox Function + Stream Mode)
P1 is WAVE MAKING mode and P2 is FLOW MAKING mode. You can select the wave pattern by turning WAVE knob and adjust FLOW RATE by selecting P2 FLOW.
W3: SINE mode (Reef Stream Mode)
Power of P1 and P2 is floating between 30% and 100% under this mode, this flow rate looks like a sine curve.
ELSE: Random mode (Reef Stream Mode)
It's irregular mode that power of P1 and P2 is changed continuously as a random value.
H. Flow mode
P1 and P2 can achieve constant flow rate by adjusting P1 FLOW and P2 FLOW
C Switch to Flow make mode. (New Function)
P1 and P2 can switch to cycling flow make in this mode. P1 work, P2 stop–P1 stop, P2 work–P1 work, P2 stop and repeating the cycling by adjusting P1_FLOW" 、 "P2_FLOW
Night mode: Start NIGHT mode by pressing the MODE/NIGHT button for long, with"NIGHT" yellow indicator shows entering into NIGHT MODE. It will work normally during the daytime and switch to NIGHT MODE during the night in which mode P! And P2 work as the least the flow rate
FEED function:Press FEED/LOCK button, the blue indicator light "10 min" illuminate, the wave maker stop working and water is static for fish eating. It will enter into the start mode before feed mode in 10 minute. If it is needed to return back into Start during feeding, press FEED/LOCK button and 10min indicator light will turn off.
LOCK button parameter adjusting" Press FEED/LOCK button for long until LOCK red indicator illuminates, which means the parameter is fixed. The knob will not change the wave pattern. It is being so to prevent the wave pattern changed by un-intention. Press FEED/LOCK button for long to adjust the wave pattern until the red indicator light turns off
According to Fish-Street, the pump controller is operational on a whole slew of products, with the WP60, WP40, WP25, WP10 and FS14000 all being specifically named. Each of these pump models will also be offered up in a bundle of two like model pumps with a controller. The price on these bundles start at $20 for just the controller without a power supply all the way up to $180 for the controller/WP60 combo. With these prices, there's no wonder why aquarium hobbyists have flocked to the Jebao brand.
And somewhat intriguing is the claim that Fish-Street will not ship the item in the original box. They say that this method saves shipping costs (which are supposedly passed on to the end user) and allows for packaging to be recycled in a responsible way. Seems like a cheesy claim, mostly because they say it will "safe [sic] the world", but that is really neither here nor there.