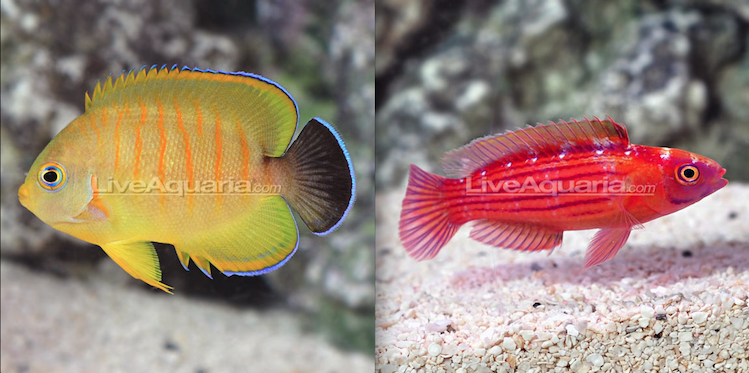 Well, it appears that LiveAquaria has done it again, and again, and again. The world renowned livestock retailer has loaded up their Diver's Den with some amazing livestock as usual, and one of their most recent hauls included the gorgeous tigerpyge hybrid angelfish and the always stunning Earlei's fairy wrasse. These two fish represent some of the most coveted individuals from each of their respective species, and LiveAquaria seems to get their hands on them with some "regularity", or about as regular as you can get with fish of this caliber.
The tigerpyge angelfish is one of those special fish that only comes around on rare occasions. It's name for the incredibly bright orange stripes that adorn it's brilliantly colored yellow body. The fins are highlighted with blue rims and an almostly completely black tail punctuates the look. The tigerpyge is a hybrid between the lemonpeel (Centropyge flavissima) and the blacktail angelfish (C. eibli). The stripes and blacktail come from the eibli angel, while the brilliant yellow is taken from the lemonpeel.
Moving onto the Earlei fairy wrasse (Cirrhilabrus earlie), this particular wrasse species is found in the Marshall Islands and Palau, with most idividuals coming from deep rubble zones around 100m down or more. The fish displays brilliant purples and reds, with horizontally opposed stripes running from basically head to tail. A sequence of tiny white dots lines the base of the dorsal fin, starting on top of the head and working their way back along almost the entire length of the body. It is a stunning fish to say the least, which makes the fact that it sold within moments of being listed on the Diver's Den no big surprise.
We meant to post this article a couple of days ago, but never could dedicate enough time to it until now, so we apologize for that.