There are many different types of frozen food on the market, and chances are we've tried them all at one point or another. And we've all had our frozen food in the freezer and realize that the foil backing comes off, and the food is then exposed to the freezer and sometimes the food gets freezer burned, and it looks unsightly so you have your wife yelling at you because she has to see little shrimp when she opens the freezer…
That's all about to change thanks to the folks at əlive. I was at a trade show yesterday and saw this new product up close and thought it was a fantastic idea. They have effectively taken our favorite frozen foods and put them in individual cups, like this: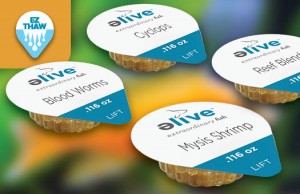 Better yet, they come in a really attractive and, more imporantly, resealable zip lock type bag. You now have a nice closing bag with individually wrapped portions pefrect for feeding time. əlive has single ingredient diets and blended ingredient diets like Carnivore Blend, Shrimp Blend, Freshwater and Reef blends to cover a wide array of foods for your aquarium friends. Here are some key features.
Natural purified frozen fish food that is vitamin enhanced
Harmful and parasite free
Clean and free of any foul odors
Great for a variety of fish
30 single serving cups per bag
Rinsed prior to packing for a cleaner feeding
Easy Thaw Technology
Keep an eye out at your local retailer, because it ships next month!