Continuum Aquatics AquaBlades surely look to be another hit by Jack Kent. His past success has brought him to his new company Continuum Aquatics, and he has been creating efficient and sharp looking products. The AquaBlade cleans aquariums even more sharply than it looks. It comes in the common size lengths, but my favorite to use is the handheld shorty. Made in the USA, these quality blades are sure to hold up and make quick work out of any coralline algae you may have.
These blades come in either plastic for delicate acrylic or stainless steel for glass. As long as you use the right blade, they are 100% safe to use and you won't have to worry about spending hours to clean your tank. Another + is that they are changeable blades so you can easily change between the different blades.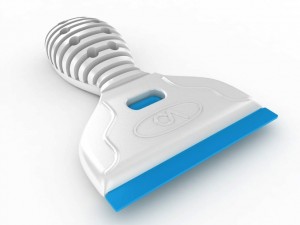 The AquaBlade has many great features but the best is that it is made with white plastic. This will allow you to see the dark spots in front of it on your tank walls. You can get the tough spots every time and never have to go back and clean-up missed spots.
To learn more check out this detailed video (above) with all its awesome features.