I decided to stop by EcoTech Marine's headquarters last Tuesday and visit the fine folks behind the great products, and I thought I would write about it for those who want to know a little about their company and products. I really wanted to focus on one key aspect of their company that is relatively new. I apologize for not taking more photos, but it was mostly office space aside from the pictures I have…please enjoy!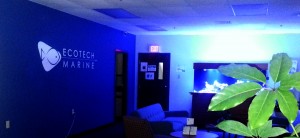 As you walk in the main entrance, you see what you would expect to see…a huge reef aquarium lit up by none other than Radions. It was a very nice 350 gallon aquarium with a filtration system that was more than over-the-top, but sadly they had experienced a power outage a short time ago and they lost almost everything. The tank is in recovery, but looks fantastic. And you can bet your bottom dollar that it won't be long before the folks at EcoTech have the tank packed with beautiful corals and fish!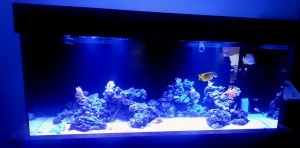 So then we moved along to the sales and tech support offices. The nicest part was that every cubicle – and every employee – had some kind of aquarium at their desk whether it was a freshwater or nano reef tank. Office stuff is pretty boring, so let's get to the fun stuff! Research and Development and the Making of the Radion!
Their R&D lab is every tech nerds dream come true! Circuit boards, wiring, solder, electronics, CNC machines, molds, test equipment…you name it, they have it! I learned that they do all of their research and development in house and many of the products have evolved from prototypes out of this room right here. I also got to talk to one of their software developers about some things and got to see some alpha testing being done on some new features of the EcoSmart Live App, so get ready for some neat new features there!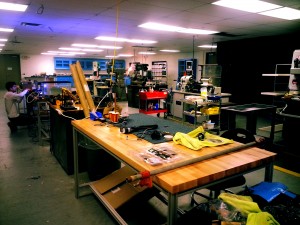 Probably the most interesting room in this entire facility is this next one we'll talk about.  This is where the magic happens. This is any computer guy's heaven. This is where the circuit boards for all of the EcoTech products are made…right here, in the USA. These machines are incredible. From start to finish, they pass through an assembly line of high tech machinery which implants circuit boards with LED's, circuitry, chips, memory, and modules almost so fast that you cannot keep up. The technology behind this is simply amazing. To watch these boards come to life is really something special.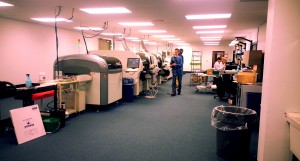 I had to keep this post somewhat vague, but this trip was downright one of the best 7 hour drives I've taken for any reason. Talking to the folks at EcoTech was an amazing and informational experience. Everyone there is so nice and they are 150% dedicated and focused on customer service and keeping their clients happy. If you ever get the chance to see the inner workings of this company, do it. You will not be disappointed. Oh, and you get to see neat little signs like this everywhere, too!
PS – Keep your eyes peeled for a special post about a special project… that I cannot talk about yet 🙂