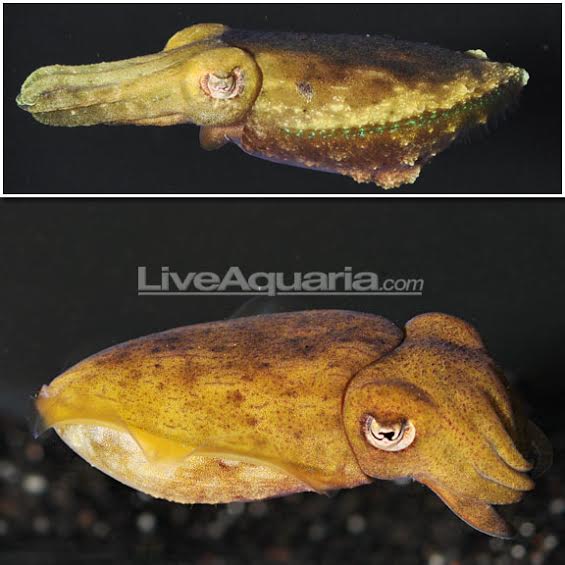 As many of you know, last year saw the culmination of some amazing captive breeding efforts by ReefGen, who debuted the world's first commercially available captive-bred flamboyant cuttlefish at the LiveAquaria booth at MACNA. Always looking to make ground breaking steps in the hobby, they didn't stop with just the breakthroughs on the flamboyant cuttles, but continued their work with others like the Sepia bandensis cuttlefish. After many years of perfecting the process, we're happy to report that ReefGen will let their captive-bred bandensis cuttles join their flamboyant cousins in the commercial spotlight, as they are teaming up with companies like LiveAquaria to bring cuttlefish back into the mainstream.
In an announcement made today, LiveAquaria will be one of the first retailers to sell ReefGen's captive-bred cuttlefish, and will do so via their always popular Diver's Den. The retail price for the first pair is $399.99, which consists of two cuttlefish measuring 2-1/8″ long and 2-1/4″ long, respectively (see images above). ReefGen has plenty of these captive-bred bandensis to go around, so if you're a cephalopod lover like us, don't feel down if you miss out on this history-making opportunity.
Captive-bred bandensis cuttlefish aren't entirely new to the aquarium trade, as they have popped up from time to time throughout the years. That said, it was always iffy as to whether or not they were actually captive-bred versus tank-raised (there is a huge difference), and they were never available in this scale and with such excitement about them. ReefGen is very well respected amongst the professional side of the aquarium hobby, and their notoriety has only grown with time. Their work has continued to impress (especially us) and we can't wait to see what other tricks they have up their sleeves.
Huge thanks to Kevin Kohen (LiveAquaria) and Laura Birenbaum (ReefGen) for including us in this wonderful announcement.