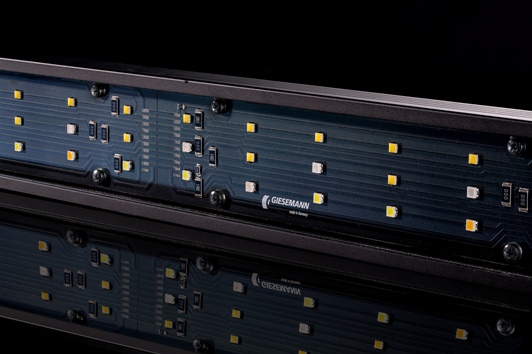 Giesemann is taking the typical LED light bar up to the next level. Instead of making just a piece of low output accent lighting, they are eyeing a fully reef capable LED striplight, called the Razor LED, which comes complete with Cree LED technology that is fully dimmable. After a couple of years of R&D, the German designed striplight will be both compact and feature-rich. It utilizes Cree MLE and XH-G LEDs, with the latter using the new ceramic tech that offers light output up to 170 lumens per watt and a much longer functional lifetime when compared to previous generations of Cree LEDs.
Giesemann will offer up the Razor in two models, a high output (HO) version and an "ECO" version. The HO Razor will deliver 50% more light than the ECO, but also offers a Bluetooth interface, complete dimmability in 1% increments, and control of up to three independent color channels. For control, Giesemann gave the Razor the same Teszla-S and Futura-S based software which allows hobbyists to create their own color output and to program various lighting scenarios. Additionally, a single Bluetooth interface can control up to four Razor fixtures.
Speaking of Bluetooth control, the software is avaible for both Mac and Windows based computers, as well as smartphones and tablets that are run with iOS or Android. The software will allow for multi-point control and the recreation of various weather patterns.
Technical specifications:
-Very high light output by using the latest generation CREE LED's
-120° lens-free optics for 100 % lightoutput and even light distribution
-Extreme high efficiency thanks to the true-dim driver technology
-Up to 170 lumen/Watt lightoutput saves large amounts of energy
-Optimized passive temperature management
-Safe 12 Volt technology
-Perfect color composition with MLE and XHG LED
-Optimized for MARINE aquariums based on the spectrum of Powerchrome AQUABLUE+ tubes
-Version TROPIC inspired by the Spectrum of Powerchrome MIDDAY tubes
-Very slim design
-Flexible control of multiple light bars (requires interface)
-Wide even light distribution without spotting
-Replaceable LED Boards
-Various sizes to replace standard fluorescent tubes
-Splash water protected housing can be installed in canopies
-100 % made in Germany using only the best components
-Black anodized aluminium profile – salt water resistant.
-Almost unlimited mounting possibilities
-Several mounting options available
-Each product is individually tested and certified
-Incl. Light bar, meanwell driver and cables