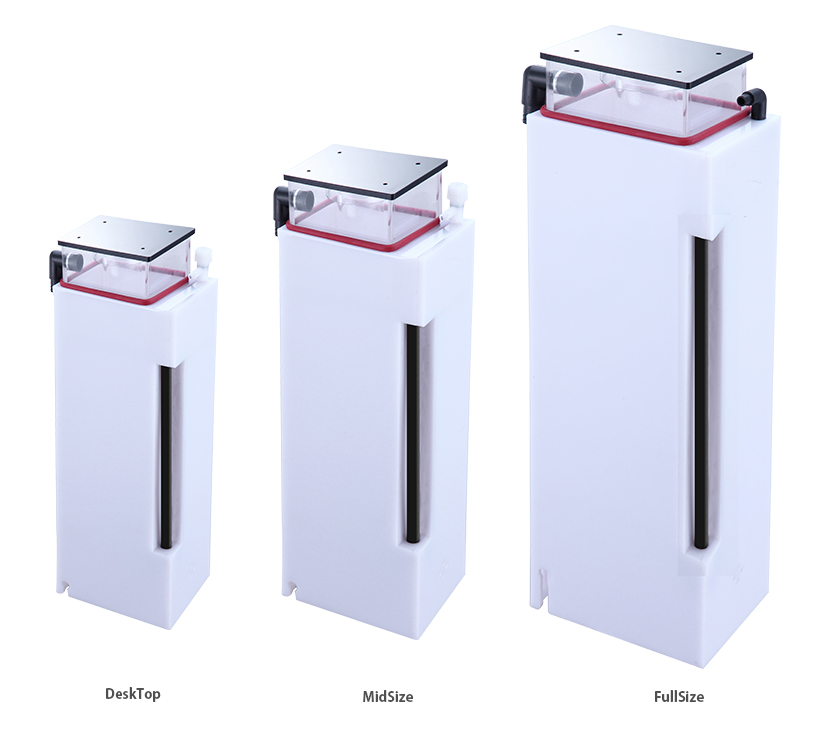 Innovative Marine is back with another ground breaking product for the world of all-in-one marine aquaria. Announced just yesterday, and in a far too subtle fashion in our opinions, the SkimMate Ghost is a new protein skimmer that looks to bring serious performance to IM's AUQA GADGET lineup. The SkimMate Ghost is a drop-in skimmer that will be available in three distinct sizes, each of which will fit nicely into the rear chambers of the NUVO aquariums whose name they bare. For example, the SkimMate Ghost DeskTop skimmer is designed to function seamlessly with the DeskTop model of the NUVO aquariums, and so on.
In terms of features, the Ghost will sport a compact design that recirculates bubbles passively to increase dwell time. Additionally, the skimmer has an enlarged inline air silencer box, a bubble diffusing plate, an adjustable air valve, and a needle wheel impeller. The design keeps the air line tubing neat and kink free, and the collection cup design isn't all too different from other popular drop-in skimmers that have been around for a while. And this list of features just scratches the surface, as there are several more finer details that we left off the list.
As for the inspiration for the design, Innovative Marine didn't just let a bunch of engineers and designers make all of the decisions. Instead, they really listed to aquarium hobbyists. Not only did IM pick all of the most popular features found in skimmers these days, but they also listened to the negative feedback on the original SkimMate and made significant adjustments. Because of this, IM has unofficially named the Ghost the "people's skimmer" and it honestly looks like a crowd pleaser.
The skimmer will make its official debut sometime in the middle of this month, with retail prices for the DeskTop, MidSize, and FullSize being $150, $200, and $300, respectively.
Features:
1. Recirculating Design – Passively recirculates bubbles for maximum dwell time
2. Drop-In Convenience – Preset to optimal water level and eliminates the need for extra accessories.
3. Enlarged Air Silencer Box– integrated into the skimmer's body for a seamless look while reducing noise.
4. Bubble Plate Diffuser – Reduces turbulence inside skimmer to improve skimmate production
5. Adjustable Air Valve – Provides air intake control
6. Needle Wheel Impeller – Produces dense micro bubbles
7. Cup Drain Elbow – Prevents overflows
8. Airline Management – Keeps airline organized and "kink free"
9. Suspended Pump Design – Reduces vibration by suspension
10. Self-Draining – Eliminate messy maintenance
11. Low Profile Cup Design – Keeps your skimmer hidden from view