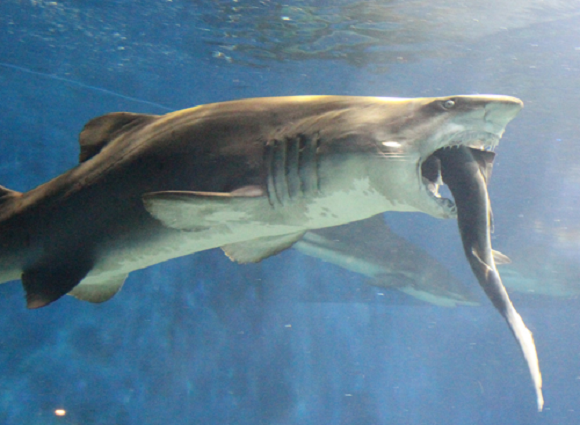 It is always easy to underestimate the feeding abilities of predatory fish, in this case a sand tiger shark at a marine park in Japan. You see the animal and think, "surely, it can't eat that" when referring to its tankmates. But the 9-foot sand tiger at Aqua World surprised its keepers when after an extended fasting period, perhaps in preparation of the swimming meal it was eyeballing, the shark tried to eat a 3-foot long whitetip reef shark.
The aquarium's staff had been worried for days because the sand tiger was showing no interest in feeding. That is until, however, the tasty little whitetip morsel came a little too close. The shark attacked the much smaller whitetip and even managed to get most of victim into its mouth. But the 3-foot long shark proved to be a bit too much, as it was seen sticking out of the sand tiger's mouth and was eventually spit out. Obviously dead at this point, the aquarium keepers removed the whitetip in fear that the sand tiger would return and try to finish the job.
Despite their normally docile nature and typical compatibility with other shark species, the aquarium's staff has decided to take another look at how they mix their predators.
Source: GrindTV