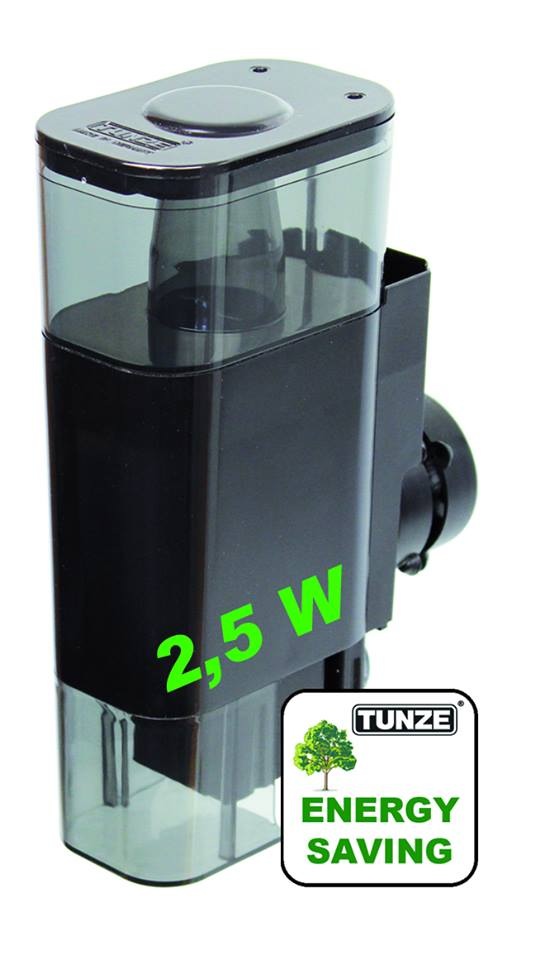 Tunze has a new protein skimmer hitting the market, and it's the smallest we've seen from the German aquarium equipment manufacturer. Based on the popular Comline DOC Skimmer design, the new 9001 is a simple plug-and-play device aimed at small aquariums from 20-140 liters (5.3 to 37 gallons). Unlike other skimmers in the lineup, the pump on the 9001 can be oriented in four different directions, allowing it to be adapted to a variety of setups.
Another way this skimmer differs from its in-tank counterparts is that it is a partially closed system. It works by using molecular compensation pressues (diffusion), which is said to remove almost no living plankton from the water column.
The skimmer's intake is located four inches below the water's surface, located on the backside of the device. A surface skimming intake grabs that film-laden water from the water's surface, and it can be located on either the right or left side of the 9001. As for the pump, the nano skimmer ditches the needlewheel propeller pump in lieu of a tiny air pump, the Tunze Foamer 9001.040 air generator.
The overall dimensions for the Comline DOC Skimmer 9001 are 4.3″L x 2.5″W x 8.5″T and it can stick to glass and acrylic up to 3/8″ thick thanks to its magnet holder. There's no word yet on pricing or availability, but we expect the skimmer to retail for well less than $100.