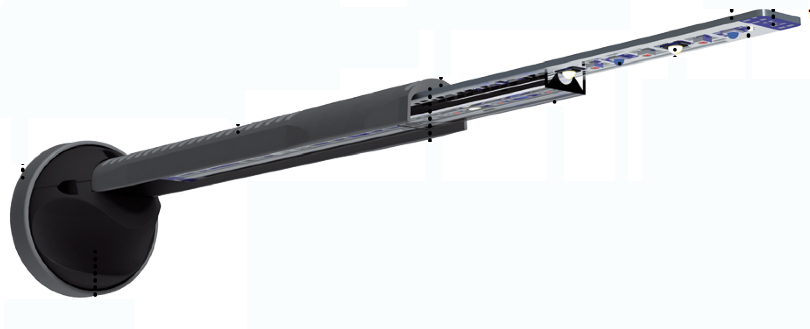 Tunze is continuing to roll out updates to their product line, now announcing the third generation of their versatile LED lights. In terms of design and function, the new LED fixtures remain pretty much unchanged, but where Tunze decided to invest was in the color offering of the emitters as well as their adjustability. The new Full Spectrum 8850 LED fixtures will sport a total of 26 diodes, which are made up of seven 5000K whites, seven 470/450nm blues, and 12 reds. This combination of LEDs is said to provide an adjustable color output that ranges from 5000K to 25000K.
As for the method of color control, the Tunze LED fixtures have always played nicer with their Multicontroller, but this new full spectrum fixture takes it a step further. The magnetic mounting bracket also serves as a control device. We're not quite sure how this works, especially since the fixture can be detached from the magnet mount, but Tunze says it is a contact-free adjustment. Besides controlling the lights, the magnet mount can hold on aquariums with 12mm (3/8″) thick glass or acrylic.
For power consumption, the fixture runs a minuscule 14watts when mounted outside of the aquarium and 26watts when run underwater. This is another interesting concept in this new fixture, and Tunze says this power regulation is totally automatic, being controlled through an on-board microprocessor.
Total consumption approx. 26W under water and 14W in the air, power supply 100-240V/50-60Hz, including Magnet Holder for a glass thickness up to 12mm (3/8").