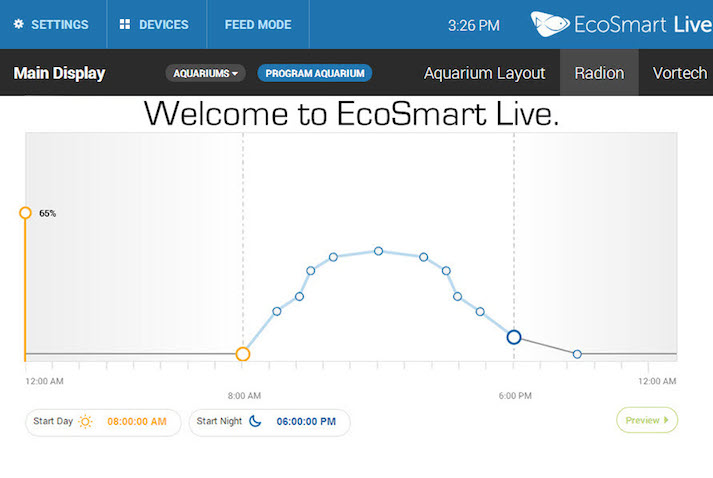 Announced just moments ago, EcoTech Marine is giving their EcoSmart Live (ESL) platform a huge update that will allow users more extensive control of the VorTech wireless pumps, give the entire interface a fresh new look, and even incorporate a webcam into the mix that will allow users to check on their tanks from a PC or smartphone. While still only in Beta testing, EcoTech Marine is offering up limited spots for everyday users to test out the updates and help them create a more polished and functional product. The ESL update will release today and all you have to do to be part of it is log into www.ecosmartlive.com and check the "Participate in Beta Releases" checkbox from the Settings & Manage Account page. If you don't make it into this beta release, more spots will be made available as time progresses.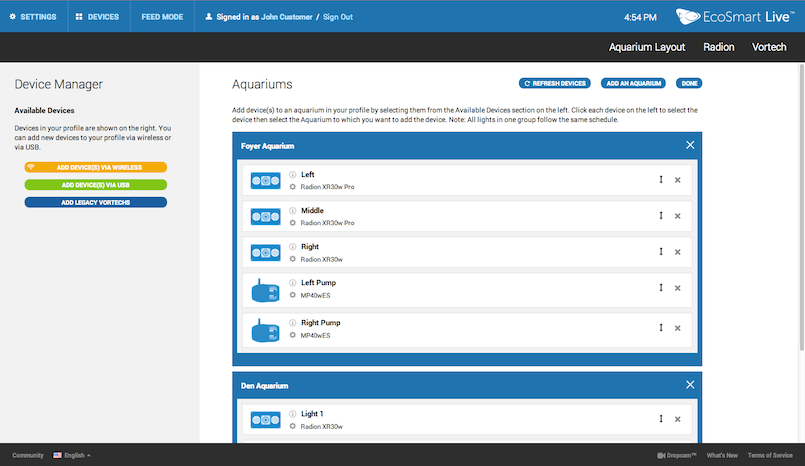 As for all of the new features coming with the EcoSmart Live update, take a look at these:
All new web design provides quick and convenient access to your Radions, VorTechs, and device settings.
VorTech control! Import pumps, upgrade them, schedule modes, adjust settings, and demo your VorTech pumps to dial in and wow friends, family and house guests from the website.
Creating gyres has never been easier by pairing master and slave pumps visually in ESL.
Create, preview, and save waves for your VorTechs.
Call various saved waves with the click of a button.
Initiate VorTech Feed Mode with one click.
Fine tuning control of VorTech feed mode, night mode, and battery backup mode speeds and durations.
Manage your Radions and VorTechs in your various aquariums using the redesigned, simpler and more elegant Device Manager.
Create aquariums and apply realistic positions for your VorTechs and Radions to define a representation of your actual reef tank.
Now for the new webcam features. The EcoSmart Live platform will now be able to import a Dropcam streaming webcam into your ESL profile, allowing users to view whatever the camera is pointed at (hopefully an aquarium) from anywhere in the world at any time. And because the software is very mobile friendly, you can watch your tank from your iPhone or Android device.
When signing up to be a beta tester, keep in mind that this is not the final product. As with any beta, there may be some glitches, errors, or issues that you could encounter. On top of that, some feedback will be required in order to be part of the program. So, if you encounter an issue, be sure to document it and pass it on to the brains at EcoTech so they can fix it for all users across the board.