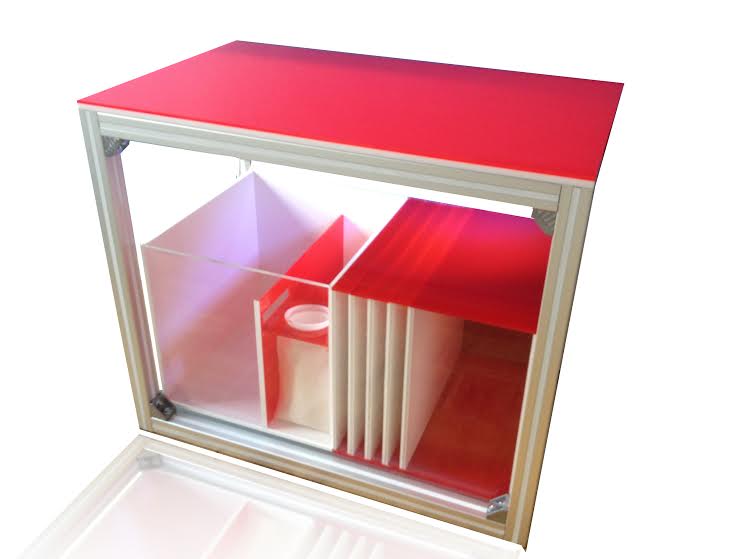 Aquariums stands are every bit as crucial to the overall process as the aquariums themselves. They provide a place to out the tank as well as store all of the other gear necessary to keep the tank functioning properly. For years, aquarists have relied on various types of wood to serve as the structure of the stand, with particle board (MDF) and plywood making up the largest portions. In more recent times, metal stands have been put into service, but these huge and heavy stands had to be built by welders and they often cost a small fortune. While these two options have generally been the only ones available, the guys at Primo Reef are looking to shake things up a bit by introducing their T-slotted aluminum stands.
These metal stands are made from aluminum, a real shocker huh, but they don't assemble like other metal stands. Instead, these stands piece together with aluminum tubing that is slotted down the middle and fastened together with nuts, bolts, and angles brackets. It's a whole new way to look at aquarium stands, and they can be pieces together by any hobbyist with even the slightest amount of mechanical skill.
As for the benefits of using these slotted aluminum stands, for one, they look pretty slick. The metal can be accented with various colored plastics or you could fasten wood panels to each side. The aluminum itself is lightweight and resists corrosion, but remain strong enough to hold up all kinds of weight from the heavy aquariums. Another great feature is they can be broken down and transported fairly easily. Lastly, there is some amount of modularity with these stands, making them ideal for aquarium keepers who like to mix things up a lot.
We don't know if this concept will catch on with a majority of folks, but we sure like the idea and would live to see more tanks with his type of stand.