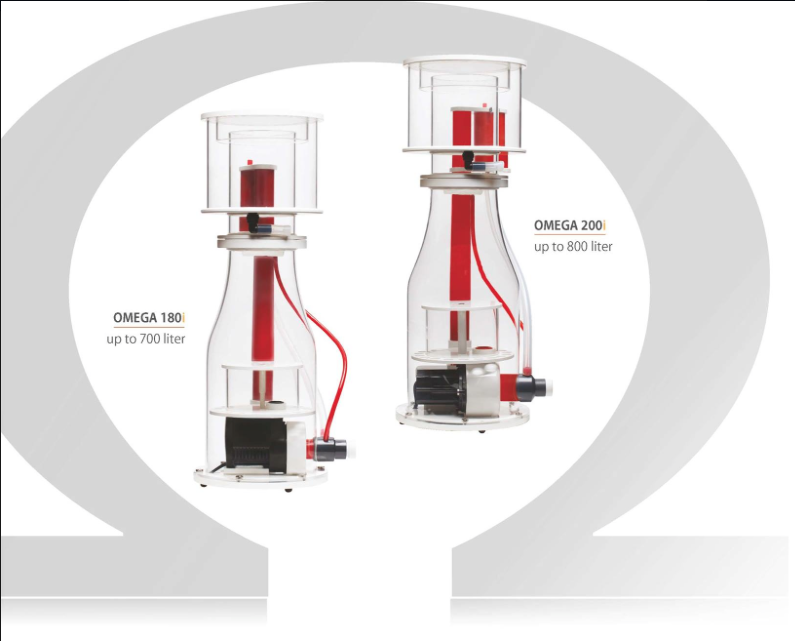 Vertex is expanding on their popular Omega protein skimmer line once again, this time adding internal pumps to the mix. As we mentioned a couple of weeks ago,Vertex was already teasing an Omega 180 skimmer ahead of Interzoo, but little did we know that the line would also include the Omega 200, and both would feature internal pumps.
The original Omega protein skimmer, the Omega 150, debuted in 2012 and featured a Sicce pump placed external to the skimmer's wind glass shaped body, vibration reducing feet, an adjustable pump volute, and rock solid build. The skimmer seemed to be an instant hit, prompting the smaller Omega 130 to be released the following year. Continuing on with the success, two larger models were added, which also introduced new features…primarily a space saving design that placed the pump under the bubble plate. Stepping it up even further, the 200i also gets a pump upgrade, moving from the Sicce to an Askoll motor block.
The move for the space saving design comes as no surprise. Sumps seems to never have enough real estate for big bodied protein skimmers, but large tanks still need the firepower to handle those large bio-loads. As for the 200i's Askoll motor, we assume this was the most cost effective way to attack those bio-load issues, but we're not sure how it will affect the "affordable" nature of the Omega line. The Sicce powered models have all been very budget friendly considering their performance and features, but the Askoll pumps are quite pricey.
Regarding the specs for these two new skimmers, the 180i is rated for aquariums up to 700 liters while the 200i has a rating of 800 liters, though Vertex reps tout a tank rating of 1000 liters.