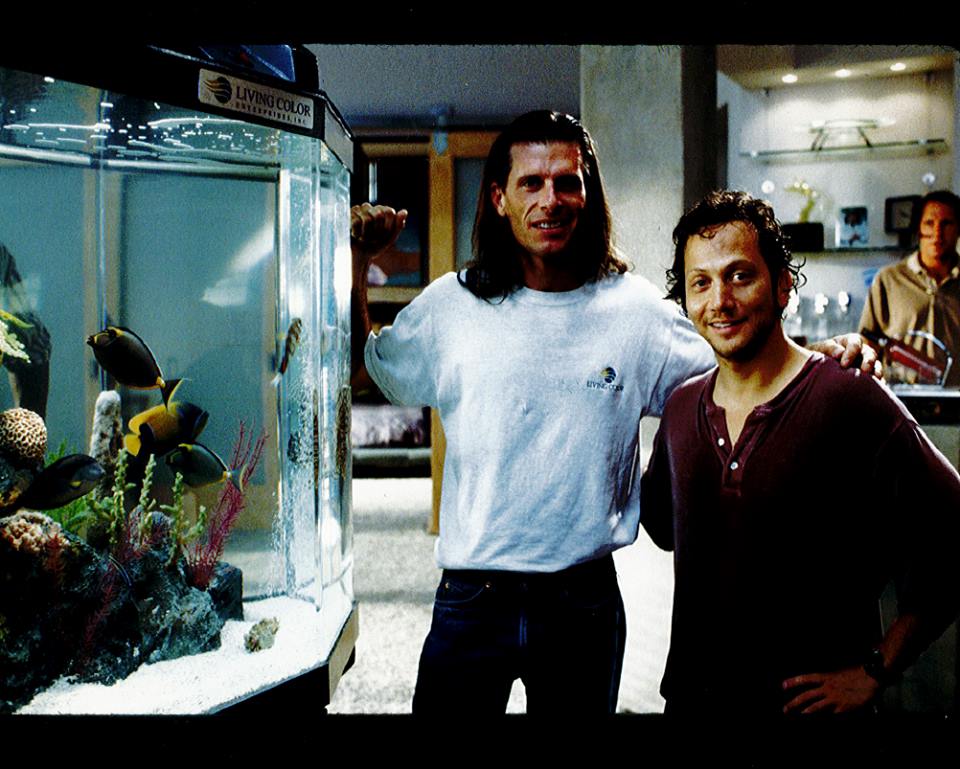 Here's a really cool story. Back in the day, Rob Schneider played a fairly cheesy but funny role as an aquarium maintenance technician in the movie "Deuce Bigalow Male Gigolo". He got himself into a bit of trouble after he broke an amazing aquarium and had to pay to replace it. He became a male prostitue to fund the aquarium rebuild, and hilarity ensued. We all remember Deuce's quirkyness, including asking for snails at the bottom of the aquarium and going out with horribly unnattractive clients, but it is the aquarium at the center of the plot that has us reminiscinig about the move today.
Over on their Facebook page, Living Color Aquariums shared a "Throwback Thursday" photo that featured a former colleague, Doug Friend, on the set of the movie with Deuce himeslf, Rob Schneider. For the movie, Living Color designed and installed the aquarium, using two different tanks for the shoot. One was a stocked acrylic aquarium, while the other was a glass tank used for the aquarium shatter scene, which set Deuce on his path to gigolo-dom.
In the script of the movie, Living Color got mad props, as the line goes, "What is that? Is that a custom Living Color anti-glare, retractable-top tank? … It is! They assemble each one of these by hand." That is technically all true, and it's awesome to hear this backstory since it was a film I enjoyed (though the sequel was a little meh) and obviously a hobby in which I dabble.