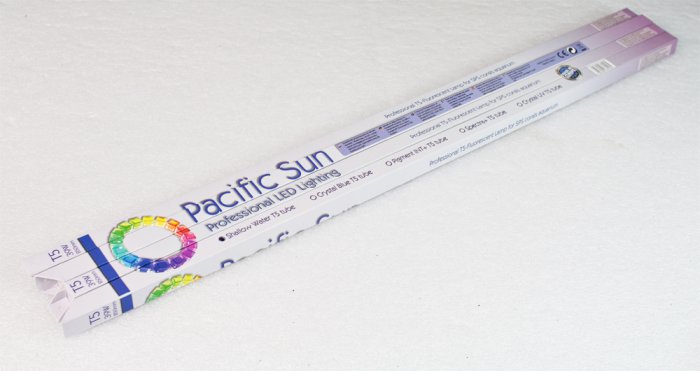 Pacific Sun is debuting another new line of lighting equipment with their brand spanking new T5HO fluorescent tubes. Designed with their beefy LED/T5HO hybrid light fixtures in mind, these lamps are said to be available in five different color combos and four sizes. That said, the Pacific Sun website only lists four colors (see below) and three sizes (39w, 54w, and 80w) leading us to assume that there may be a yet to be announced color and just an unlisted availability for the smallest size T5 tube.
Regardless, the lamps are available in Crystal Blue (420nm blue), Shallow Water 18.000K (white), Pigment INT+ (full spectrum with blue and red), and finally the Spectra+ 19.500K (a combination of the previous three). These four offerings cover a really broad spectrum that would make any coral color pop, and with the three currently available sizes (with a potential for a fourth), virtually every T5 loving hobbyist could give them a go.
Here are the spectral plots and descriptions from Pacific Sun:
Crystal Blue T5

The Crystal Blue T5 tube combines the properties of a blue tube (approximately 460nm) with an actinic tube (approximately 420nm), producing an intense blue light with high PAR numbers and a light spectrum that encourages both bluing and fluorescence in SPS corals. Delivers an intense blue light with the properties of a blue tube and an actinic tube.The unique spectrum enhances the vibrant blue colours of your corals.

Spectra+ 19.500K

The Spectra+ T5 tube combines the properties of a Crystal Blue, Shallow Water and Pigment+ tube producing a tube with unique crisp white colour with hints of red and blue and uv colour.. The higher blue component compared to an Shallow Water T5 tube produces better fluorescence in corals and the red component is excellent for colour rendition. Average color temperature is about 19.500K.

Shallow Water 18.000K

Shallow Water T5 HO tube have average color temperature about 18.000K.This tube is white to the human eye, combines the properties of a full-spectrum tube with an elevated blue and uv colour peak. Tube combines the phosphors of a Blue Plus tube with a 10000k full-spectrum daylight. Great as a standalone bulb.

Pigment INT+

This tube combines the properties of a full-spectrum tube with strong red and blue components, producing a tube with excellent colour rendition that works very well to bring out pinks, purples and reds in an aquarium.
Prices range from €12.90 to €16.90, which puts all of the lamps under $25 American if the rates hold steady. If that's the case, they will be coming in cheaper than many other T5HO tubes and will likely be instantly competitive on the market.