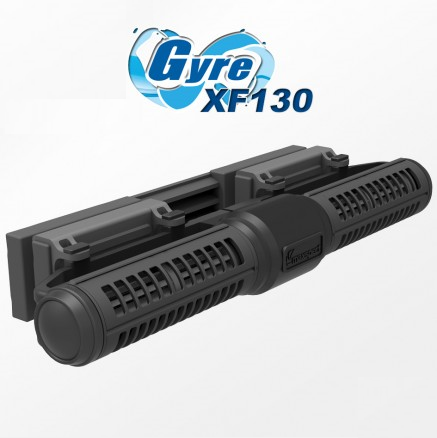 The pump that took the aquarium world by storm in 2014 is about to get a brand new little brother. Riding on the popularity of the XF150, Maxspect is releasing a smaller XF130 that will put out approximately 2300 gallons per hour, which is just under half the water flow of the original Gyre pump. The new XF130 will also be noticeably smaller, tipping the scales at 10"L x 2.95"W x 1.57"H. This makes the smaller pump around two inches shorter in overall length and one inch shorter in height, though the width stays unchanged. This drop in size and flow rates mean the XF130 is more ideally suited for aquariums 25 to 100+ gallons. As far as the price goes, the smaller model will see a $60 drop from its bigger brother, bringing it down to $239.99. It will hit the store shelves this February, and in all likelihood it will be a hot seller, just like the XF150.
Other than those minor changes, the pump is relatively unchanged. It still has the dual output and flow patterns, the attached flow controller and wavemaker, all of the gear to mount it inside of your aquarium, and all of the same gyre creating potential.
And if the initial debut of the Maxspect Gyre at Interzoo last year was any indication of what's to come, expect even smaller models in the (hopefully not too distant) future.