Algae Free PLUS+ Aquarium Cleaning Magnets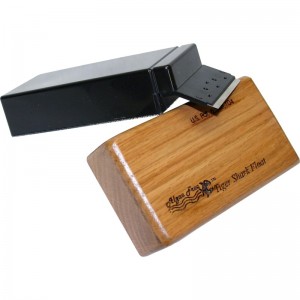 We are very excited about the new Algae Free "Plus Series" cleaner magnets. Featuring a detachable and replaceable scraper blade for glass (stainless steel) or acrylic (plastic) aquariums,  these new magnets will make algae cleaning quicker and easier than ever before.
Algae Free, LLC, makers of the original algae floating algae magnets, have developed the  plus models for use on glass and acrylic aquariums (10 to 1,000 gallons) with wall thicknesses of 1/8″ to 1″.  The main feature of the Plus+ model is an upgraded blade scraper.  In the previous model, one would have to glue the blade attachment on to the algae magnet. The attachment was often flimsy and unstable. With the new upgraded blade, the scraper is firmly attached to the end of the magnet, creating a very stable and easy to use scraper.  If you are already using an original Algae Free magnet, you can easily upgrade your existing Algae Free magnet by ordering the Scraper Upgrade Kit. The kits have a retail price of $29.95 and will fit the Piranha, Hammerhead and Tiger Shark Magnets.
Like the original,  the Algae Free Plus+ cleaning magnets are made with Neodymium Rare Earth Magnets, one of the strongest magnets in the world. The outer magnet assembly is handcrafted in the USA.  We have been using the standard model magnets for many years and they have stood up the the test of time with ease and now we are looking forward to upgrading our standard magnets to the Plus+ model.
Algae Free Plus+ Features:
Strong, high-quality neodymium rare earth magnets
Replaceable scraper blades for glass and Acrylic aquariums
Replaceable inner scrubbing pad with nontoxic adhesive backing
Replaceable felt pads for the outer cleaning assembly
Floating interior magnet assembly (except Great White models)
Inner assembly is non-toxic and can be left inside tank all the time — it will not rust!
Can be used on all glass aquariums
Acrylic-safe inner scrubbing pads make it ultra safe to use on acrylic aquariums
Can be used in fresh and saltwater aquariums
Decorative finish that becomes part of your aquarium
Limited 2-year warranty on material and production defects
Models:
The Great White Plus+  (Non-floating) is Algae Free's most powerful magnetic cleaner. It has the same cleaning area as the Tiger Shark Float but contains a much stronger magnet.  Ideal for:
Glass and acrylic aquariums 3/4″ and 1″ thick
Glass aquariums holding 300 to 600 gallons
Acrylic aquariums up to 96″ long and 36″ high
Large 4″ x 2″ cleaning area
The Tiger Shark Float Plus+ is the largest floating magnet available from Algae Free and it's designed for larger aquariums. Its inner assembly will float to the surface if disengaged for easy retrieval. Ideal for:
Glass and acrylic aquariums 5/8″ and 3/4″ thick
Glass aquariums holding 200 to 350 gallons
Acrylic aquariums 72″ long and 36″ high, 96″ long and 30″ high, or 120″ long and 24″ high
Large 4″ x 2″ cleaning area
The Hammerhead Float Plus+  is Algae Free's medium-sized aquarium cleaning magnet. The inner assembly will float to the surface if disengaged for easy retrieval. Ideal for:
Glass and acrylic aquariums 1/2″ and 5/8″ thick
Glass aquariums holding up to 110 to 200 gallons
Acrylic aquariums 48″ long and 30″ high
Large 4″ x 2″ cleaning area
The Piranha Float Plus+ will easily remove algae off smaller tanks. Its inner assembly will float to the surface if disengaged for easy retrieval. Ideal for:
Glass and acrylic aquariums 1/4″ and 3/8″ thick
Glass aquariums holding up to 30 to 125 gallons
Acrylic aquariums 36″ long and 20″ high
Large 4″ x 2″ cleaning area