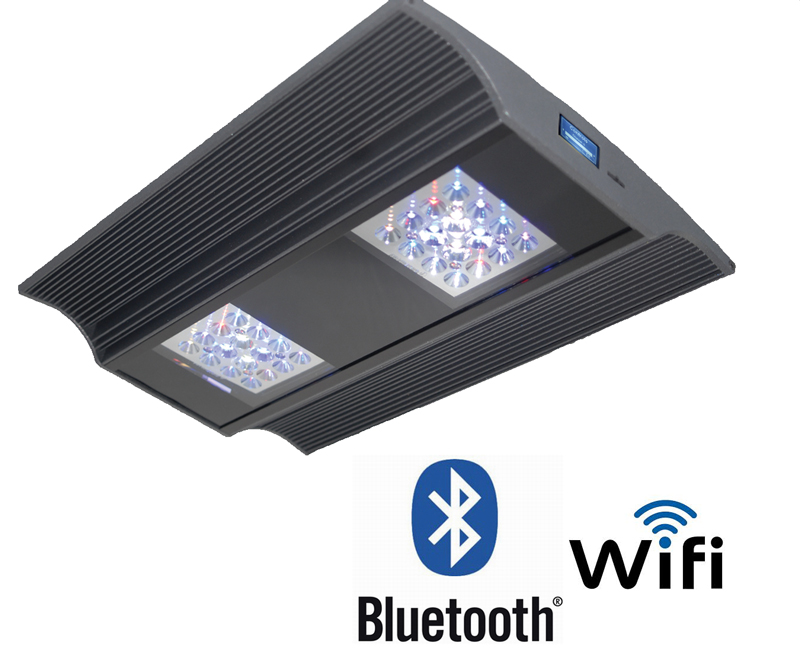 Giesemann Aquaristic USA will be debuting its new two newest additions to their LED fixture line at MACNA 2015 in Washington, DC September 3-6, 2015.  Estimated street pricing on the VerVve Pro is $729.99 and the VerVve One looks to be $679.99. The nomenclature is a little confusing at first but Giesemann has designed a primary and secondary control approach to it's lighting.  For example, if you have an aquarium that requires 3 LED fixtures, you would typically want to use one Pro fixture (primary control)  and two VerVve One models (secondary control).  The primary control fixture (VerVve Pro) takes commands over wi-fi or through Bluetooth from your computer or smartphone.  Then this same information is transmitted to the secondary control fixtures from the primary control fixture Pro using ZigBee protocol.  For those of you that are not familiar with ZigBee, it's the only open, global wireless standard to provide the foundation for the Internet of Things.  Zigbee enables simple and smart objects to work together, improving comfort and efficiency in everyday life.
The new VerVve fixtures feature 56 optimized LED diodes with 6 different channels for independent color spectrum and lighting control.  They also have 1450+ programmable set points and custom loss-free reflectors with a glass splash shield.  The aluminum/magnesium alloy frame is powder coated in "Iridium".
The VerVve fixtures have a passive heat sink along with a silent fan which together constitute the fixture's "temperature management system".  Like many of the higher end LED fixtures on the market, the VerVve boasts worldwide wireless capability and complete controllability from a smart phone, tablet or PC device via Bluetooth.  There is also an on-board controller built into the fixture that easily allows for "touch of the button" programming changes such as multiple light transitions, rolling cloud and storm effects, and a lunar cycle setting.
More detailed information will be available for both models after the MACNA conference. Stop by the CoralVue booth to see Giesemann's new VerVve on display at MACNA 2015.