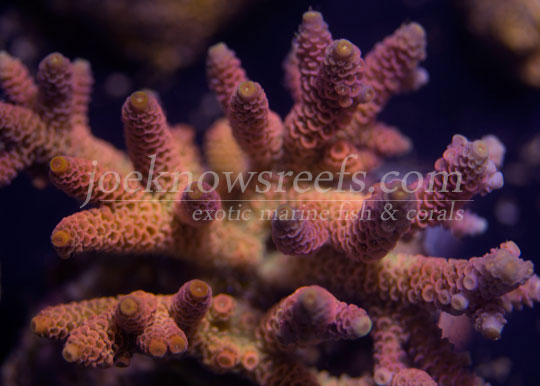 We will now be featuring a coral of the week on AquaNerd.  Each week we will display a picture of a farmed, maricultured or wild collected specimen.
The 1st coral of the week comes to us from Joe Knows Reefs in North Charleston, SC.  But 1st a little bit of info about Joe Knows Reefs.  Joey Nichols, the owner of Joe Knows Reefs has been in the hobby for several years now and he has owned and operated Joe knows Reefs as a part time gig up until now.  Joey's business has become so successful that he went full time with Joe Knows Reefs and he has relocated to North Charleston from Sumter, SC.  If you have ever had the pleasure of working with Joey then you will know that he really takes care of his customers and his corals are beautiful and healthy.  Joey imports directly from coral farmers and collectors from around the world and I think he has some of the best looking corals anywhere.
Ok so now that we shared a little about Joey's business with you here's the skinny on his 1st featured Coral of the Week.
Country of origin:  Bali, Indonesia (though they can all be found in many other areas including Fiji, Philippines, Australia etc)
Parameters all the same on each – these are the numbers I target
Calcium – 420
dKh – 8
pH – 8.3
PO4 – 0
NO3 – <5ppm
Acropora millepora
5-15 meters deep in the ocean, found in strong turbulent waters, typically exposed reefs.
In the aquarium – prefers strong, turbid, indirect flow – from alternating sources of origin (wavemaker etc) – strong lighting in the 350-450 par range under full spectrum lighting.
Typically a fast growth rate and the "fuzziest" of all acropora species.  Acropora Millepora are also some of the easier acropora species to keep.  If you are new to SPS corals then this is one of the safest corals to start with.
If you have something interesting that you would like to share with us then please send your photo, country of origin (if known), and any other information that you would like to share with us as it relates to your coral.  If we like what we see then you will see it on AquaNerd for all the world to see.  Happy Reefing!