Innovative Marine has announced the release of a new simple yet versatile addition to their Auqa Gadget line of aquarium products. The Innovative Marine Reef Rack, debuting late September 2015, is a cleanly designed, multi-tiered frag rack system featuring sliding (removable) shelves. The sliding shelves are really the Innovative selling point on these racks. The ability to manipulate the unit by employing the shelves allows the user to customize the rack to their specific needs.
The unit can be kept in it's compact form if the user only has a few frags to share or it can be expanded when more storage is needed. Since the Reef Racks are designed to work in tandem with each other, the user can also merge the racks by extending the sliding shelves, providing the user with a wider range of design options. Innovative Marine has given examples of how the units can be used together, but really the options are only limited by the users imagination.

The Reef Racks will be available in three sizes, holding 32, 50 and 102 frag plugs respectively. The Reef Racks assemble quickly with no tools and are designed to hold most coral frag plugs up to 15mm in diameter. The expandable shelves lock into place to keep the racks from floating away, eliminating the need for egg crates, zip ties or glue. It is constructed from cell cast acrylic and the 50 and 102 systems feature a laser cut flow port allowing water to freely pass over the corals to prevent detritus from accumulating.
Quite a few manufacturers have started to develop these racks as of late, but the expandable and removable shelves are sure to set this unit a part from the rest of the pack. The Innovative Marine Reef Racks will be available from major online retails and Brick & Mortar stores late September 2015.  If you are going to be at MACNA 2015 this weekend then stop by to see B.I.G. Steve and lil' Steve at booth 1215 and they will tell you everything you could possibly want to know about the Reef Racks and the new Fusion Lagoon aquariums.
Reef Rack 32 (Retail Price $69.99)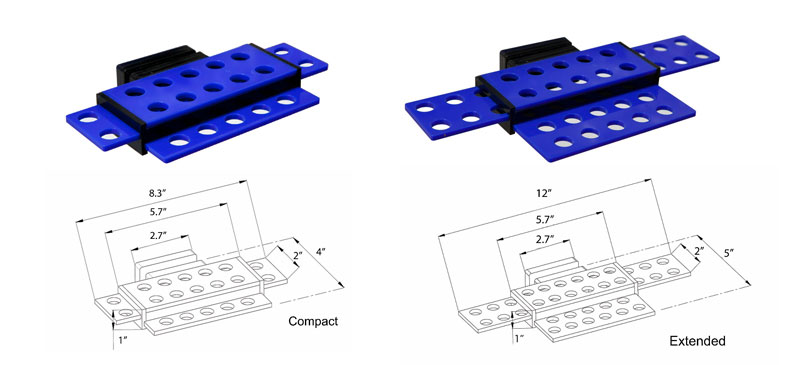 Magnetic Mounted Frag Rack
32 Holes for Frag
Magnetic Strength up to 1/2″ Glass
3 Sliding Shelves
Reef Rack 50 ( Retail Price $49.99)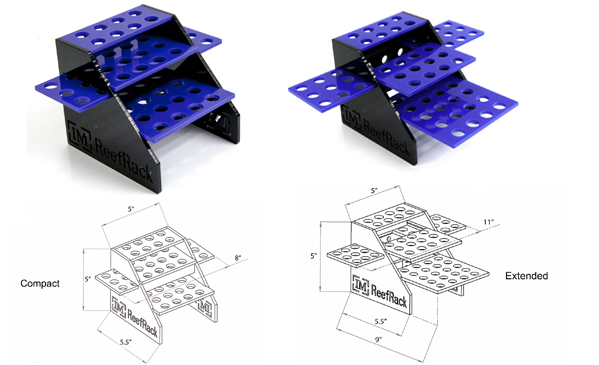 3 Tiers with 4 Sliding Shelves
50 Holes for Frags
Laser Cut Flow Ports
Reef Rack 102 (Retail Price $69.99)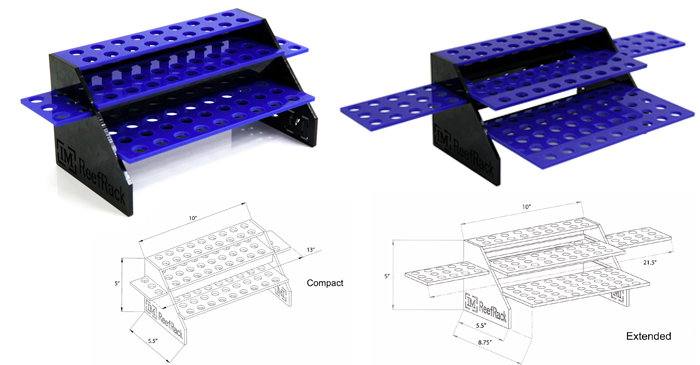 3 Tiers with 4 Sliding Shelves
102 Holds for Frags
Laser Cut Flow Ports