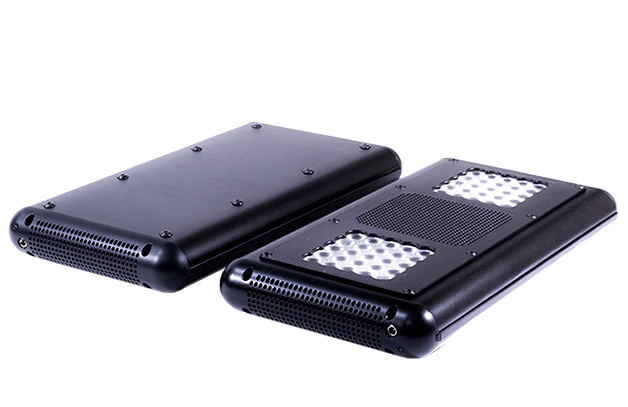 In this article, we will be unboxing the Euroquatics Angel AIP LED fixture, discussing both the contents of the box and physical attributes of the fixture. We will be evaluating the fixture over one of our display tanks over the next few days and will be posting a follow up article with a more detailed review next week.
In case you are unfamiliar with the company, EUROQUATICS is a division of the horticulture company Gavita, based in the Netherlands.  Although Gavita  lists on its site that is has been in the horticulture lighting space as Gavita Holland since 2009, their site also states "Gavita is the oldest specialized horticultural lighting company. We build on 30 years of accumulated knowledge and innovation."
On first glance the build quality looks exceptional.  The entire enclosure is powder coated metal housing that not only looks elegant but is also very sturdy.  Each end of the fixture is perforated to allow air to pass through the length of the fixture.  The cooling fan is located between the 2 LED pods and it's barely visible underneath the perforated enclosure.  Like the Ecotech Marine Radion, the fixture has an underside mounted fan design.  The fixture dimensions are 13.4″ x 7.1″ x 1.6″ (340mm x 180mm x 40mm) and it weights approximately 4.90 lbs.  The unit feels very solid and would easily stand in quality with the other high end LED fixtures on the market.
The Angel LED comes in two varieties: The Angel LED A1 rated at 95 watts max power retails for $574.99 and the Angel LED A1P is $679.99 and is rated with a maximum power of 150 watts. Both fixtures come with cool white, blue, royal blue and violet diodes. The A1P has added red and green diodes for a more complete spectrum of color options.
EUROQUATICS is distributed in the US though Marine Depot.