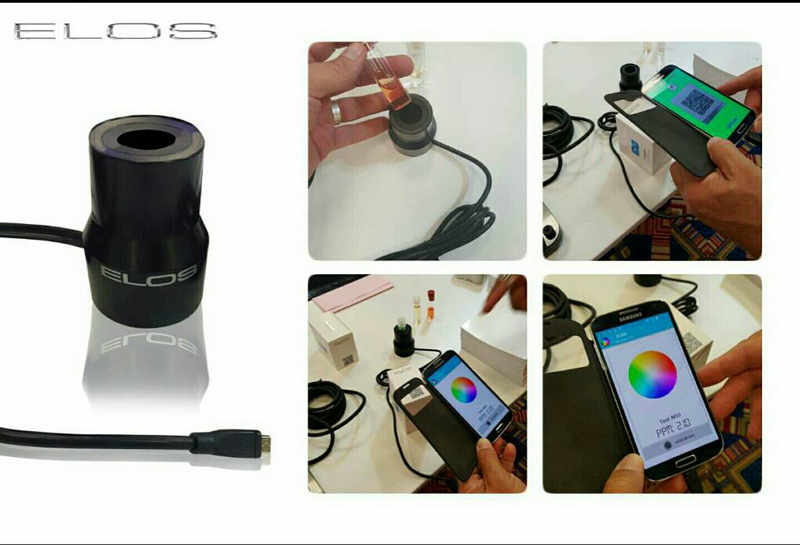 Several years ago Nicola Gandini, owner and designer of Elos aquarium products introduced the first prototype of the Elos Colorimeter.   The product proved to be cost-prohibitive in the market due to production costs, however as technology has caught up to his concept, the dream of producing an affordable water test colorimeter has been realized.  I stopped by the Elos Aqua Studio NY booth to see the new products Nicola had been working on.  Honestly I wasn't even aware that Elos had tried to develop a colorimeter over 6 years ago.
For those that are not familiar with Colorimeter technology,  it is used to measure the absorbance of particular wavelengths of light passed through chemical solution.  The Elos Colorimeter 2.0 scans the solution in an Elos water test vial and reports the chemical levels of any Elos color indicating test kit.
Many people have difficulty discerning the color and shade differences using standard color indicating aquarium test kits.  The Elos Colorimeter is vastly more accurate than the human eye interpreting these results.
How it works…Simply perform the normal steps you would do with your Elos test kit.  Next place the vial into the colorimeter and plug the colorimeter cable into your smartphone by using the USB connector.  (no word on iPhone compatibility yet).  Next, you will need to scan the QR code on the side of the Elos test kit box.  The QR code will tell the software which test you are using and it will also let the colorimeter know from which lot the test kit was manufactured.