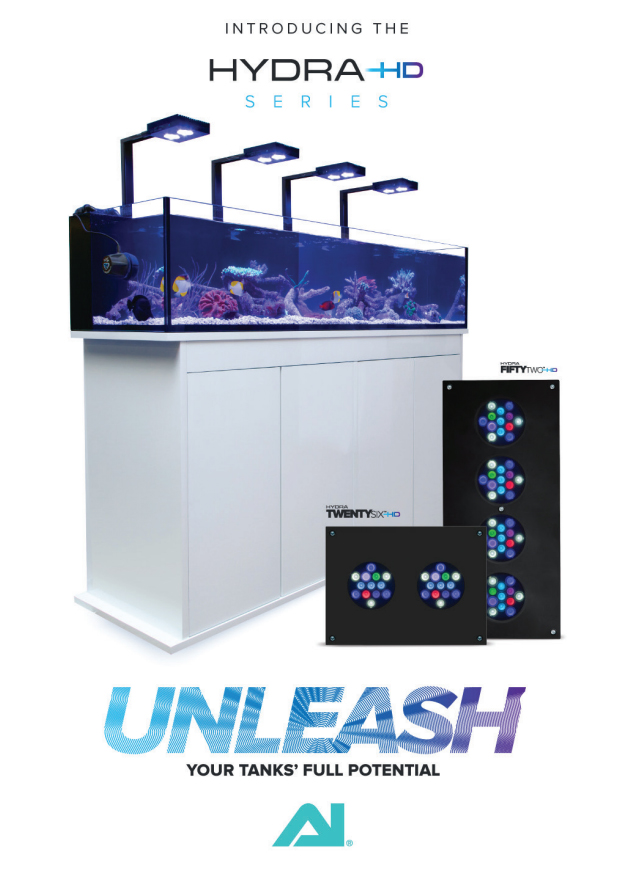 Aqua Illumination, known for their premium quality and high tech design in LED lighting products, has announced that they will be releasing two new LED fixtures which will replace the Hydra TwentySix and Hydra  FiftyTwo models.  The replacement models will be called the Hydra TwentySix HD and the Hydra FiftyTwo HD.
Although the physical appearance of the HD models are identical to their respective predecessors, having the same number of diode colors, wattage and LED configuration, but it is whats inside of the package that is innovative and groundbreaking. AI has redesigned the power distribution and controllability features inside the fixture via some pretty cool and advanced engineering.
Now, have you ever wondered why anyone would want to run red, green and sometimes white LEDs at 100% power? Well evidently AI saw this as an issue as well so they have decided to build in a way to redistribute the power to other LED channels by re-engineering the circuit boards.
From AI – "No longer are you limited to using a fixed amount of power per color channel, the HD dynamically adjusts power available to each color, borrowing power from the colors you're not utilizing. Giving you the most vivid spectrum your tank has ever seen."
How it works
For example, let's say you only want to run the green channel at 10% power throughout the day but you would like to run the 415nm channel above 100%.  Now, with the HD models you can do just that.  The HS series Hydra fixtures now give you the power to redistribute available power as you see fit.  As you can see from the graphic below power can now be increased beyond 100% as long as another channel is below 100%.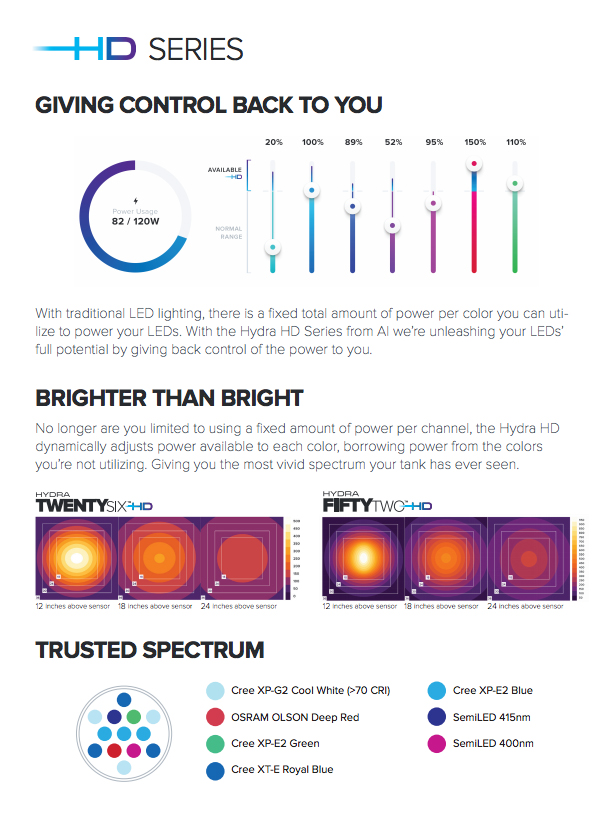 Say goodbye to the Director and the Wireless Controller.  The new HD series fixtures are completely WiFi ready so there is no longer for a need for the AI Director ($99.00) or the AI Wireless Controller ($79.00), making this a more affordable LED lighting solution than ever before.  With built in WiFi you now have the ability to program one or multiple AI Hydra HD fixtures from your smartphone, tablet, Mac or PC from anywhere in the world.
So if you want to move up to the hottest and newest lighting fixtures in the industry, here's your chance.  By the way, the new HD series is fully compatible with the mounting rails and arms, hanging kits, and all of the other existing mounting hardware from AI.
Aqua Illumination expects to begin shipping the Hydra FiftyTwo HD fixtures on 9/28/15 and the TwentySix HD fixtures should begin shipping to distributors on 10/05/15.  The FiftyTwo is going to retail for $599.00 and the TwentySix will hit the streets at $349.00.  As of the posting date of this Article, AI has not posted the new fixtures to their website.