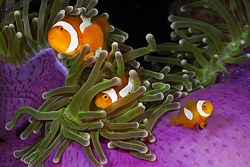 Renowned most recently by the Little Nemo series from Pixar Entertainment, the symbiotic relationship between the clownfish (aka anemone fish) and the anemone is often misunderstood.  Not every anemone is a suitable host for every clownfish. Anemones are highly host specific and often will only coexist with a very specific species indigenous to their region. Some anemones are not suitable hosts at all and have a powerful sting that even the clownfish cannot survive. When choosing a suitable anemone to play host to your clownfish, you need to look for indicators of compatibility such as species which are from the same specific region or specific combinations which have been shown and proven to be compatible with one another.  Failure to exercise discretion in your selection could prove fatal to your prized clownfish.
Several theories exist as to why certain clownfish appear to be immune to the highly poisonous nematocysts or stinging cells of certain anemone.  One such theory is that the clownfish have a layer of mucus covering their outer body which protects them from the stinging cells.  Another theory is that the mucus coating of the clownfish may be based on sugars rather than proteins. This would mean that anemones fail to recognize the fish as a potential food source and do not fire their nematocysts or sting organelles.
The sea anemone protects the clownfish from predators and provides food through the scraps left from the anemone's meals.  Alternately, the clownfish defends the anemone from predators and parasites and aids the anemones circulation by the activity of swimming and wedging through its tentacles.
As caretakers of the marine environment, we admire the symbiotic relationship as it exists in nature and are able to reproduce this relationship within our aquariums with proper understanding and husbandry.
Clownfish / Anemone Compatibility Chart
If you have a clownfish species that is not listed in the chart below and you have successfully been able host it with an anemone, please let us know.  Please note that the chart is merely a reference guide and does not claim to be all inclusive. Not all clownfish/anemone pairings are listed.  Clownfish have also been know to host in various species of corals and even sometimes in Tridacna clams.  Clownfish links provided by Florida fish breeder, Proaquatix.