Reef Life Support Systems (RLSS), makers of the Waveline DC Pumps have introduced a new skimmer called the DB5-i.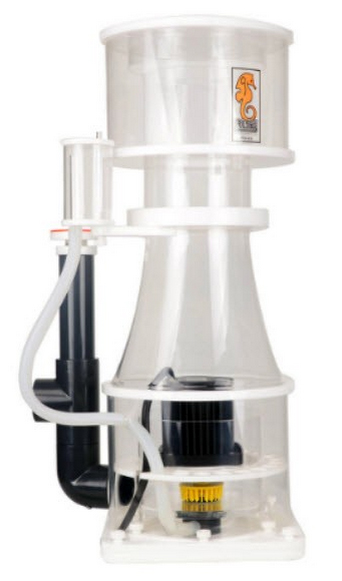 The "5" designates a 5″ diameter body on this skimmer making it the smallest skimmer in the RLSS lineup.  This new skimmer features the very popular open volute design.  Removing the volute on the Waveline pump and turning it upside down provides a much greater capacity for the pinwheel pump to produce more microbubbles and provides a longer path for the bubbles to travel inside the skimmer body.  This longer bubble dwell time coupled with greater bubble density increases the skimmer's efficiency and increases skimmate production, making this a great companion for smaller marine aquariums.
RLSS DB5-i Specifications:
5″ Internal Skimmer
Measurement: 8″ x 6″ x 21″
Power Input:100-240V, 50-60hzAC convert to DC
Power: Max Power 30 watts
Air intake: about 300 l/hr
Recommended for: Up to 90 gallons on a well stocked aquarium
DC controllable Gen 2 DC2500 Waveline pump and 30 minute feed timer and external controller
Super quiet and extremely efficient.
The RLSS Series Protein skimmers are conventional skimmers with an unconventional pump and hybrid impeller. Like many protein skimmers, the Waveline DC2500 pump performs both water delivery and water fractionalization for the protein skimmer by virtue of its patent pending impeller design. These pumps are DC (direct current) which employ a speed controllable current and run quieter than AC  pumps. Users may select from six preset RPMs via the Waveline pump controller to tune the skimmer's performance on demand. The pump also features a unique feed/service timer which shuts off while you feed your livestock and then restarts after 30 minutes. Like the other DC pumps from RLSS, the DC2500 pump employs a soft start, which means the pump slowly ramps up increase the longevity of the motor block.
All RLSS skimmers come equipped with an Air Silencer, custom venturi intake and all the silicone tubing required. Assembly should take less than 5 minutes.  Each needle wheel features a 2″ diameter with short shaft which reduces imbalances and noise/vibrations. These skimmers run quiet and cool.  We look forward to seeing them in widespread use in the near future.